Abortion decriminalised in Northern Ireland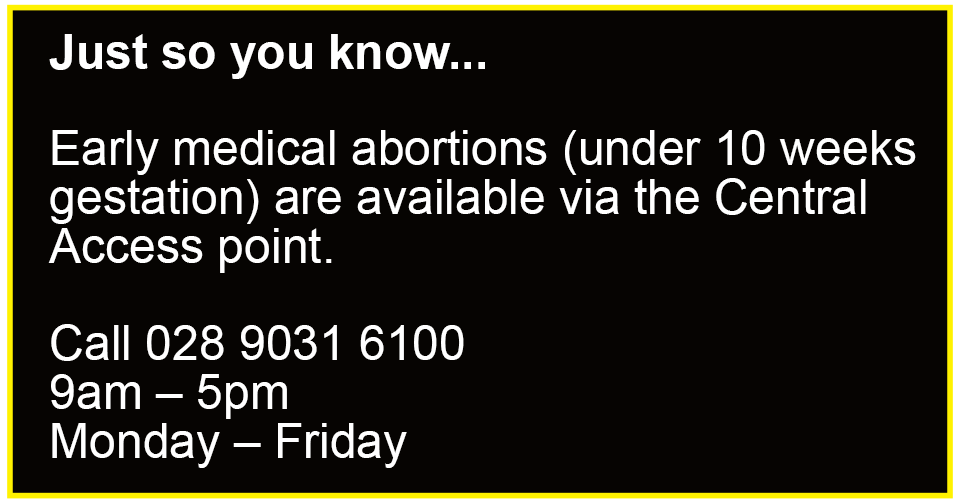 In October 2019 abortion decriminalised and became lawful in Northern Ireland. A new framework for lawful abortion services came into effect on 31 March 2020.
The Regulations
When will a termination be allowed?
Up to 12 weeks:
Unconditionally
Up to 24 weeks:
When continuing the pregnancy would risk mental or physical injury to the woman or girl that is greater than the risk of terminating the pregnancy.
No time limit:
When there is substantial impairment to the fetus, including when death is likely before, during or shortly after birth.
When there is risk of death or serious permanent injury to the woman or girl:
Greater than the risk of termination, or
When necessary to prevent serious physical or mental harm, including immediate necessity such as during birth
Who can perform a termination?
Only medical professionals i.e. registered doctors, nurses and midwives.
Professionals may conscientiously object to performing a termination, unless it's necessary to save the pregnant woman or girl's life or prevent serious permanent physical or mental injury.
Where can a termination take place?
Your GP
A Health and Social Care (HSC) premises
At home, for the second stage of early termination, via abortion pills only
Buying abortion pills online
Those using abortion pills purchased online will not be prosecuted. If you need medical assistance following their use, health professionals are no longer under a duty to report their patients' use of abortion pills.
What next?
We are pressing the Northern Ireland Department of health to for new services to be introduced as soon as possible so that women and girls can finally access the healthcare they need.
We are also pushing for women to be able to self-manage abortions at home during the COVID-19 crisis. Email the UK government demanding the rules are changed to allow this basic healthcare.
Campaign history
How we got here
Explore the timeline below to learn more about the abortion regime in Northern Ireland and what we have done to help bring the law in line with international human rights standards, including the decriminalisation of abortion.
C
Campaign news
Northern Ireland: Abortion Central Access point an 'important step forward' April 2020
Northern Ireland: option to take both abortion pills at home urgently needed during Covid-19 crisis March 2020
UK: abortion pill measures 'a huge relief' - must now be adopted in Northern Ireland March 2020
Northern Ireland: Abortion regulations fail to protect women during Covid-19 crisis March 2020
New abortion pill measures a 'necessary step' - must extend to Northern Ireland March 2020
Northern Ireland: Eight terminations carried out in 2018/19 January 2020
Northern Ireland: court drops charges against mother prosecuted for buying daughter abortion pills October 2019
Northern Ireland: campaigners mark end of Victorian era abortion ban at Stormont October 2019
Northern Ireland: Government publishes abortion guidelines for healthcare professionals ahead of law change October 2019
Northern Ireland: High Court ruling finds abortion law in breach of UK human rights commitments October 2019
Northern Ireland abortion: High Court to rule on Sarah Ewart case October 2019
75% think Northern Ireland abortion law should change November 2018
Northern Ireland: woman who bought abortion pills for daughter in court to challenge prosecution September 2018
UK Supreme Court hears challenge to Northern Ireland abortion law January 2018
Court rules against extending abortion rights in Northern Ireland January 2018
New poll confirms overwhelming majority of people in Northern Ireland want to decriminalise abortion May 2017
The UK country where women face life in prison for an abortion May 2017
Abortion ban in Northern Ireland found to breach human rights May 2017
Northern Ireland: Contact your MLA to urge a vote for abortion law reform February 2016
Amnesty launches new campaign on abortion in Northern Ireland October 2014