75% think Northern Ireland abortion law should change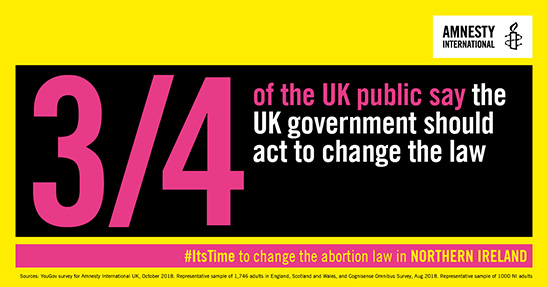 75% of adults in the UK want the government to change the abortion law in Northern Ireland, according to our new research. This is the first major opinion poll since the Republic of Ireland voted yes in their referendum on abortion law.
Northern Ireland has one of the strictest bans on abortion in the world with women in almost every circumstance facing up to life in prison for a termination.
Our research looks separately at attitudes in Northern Ireland and the rest of the UK (England, Scotland, Wales) separately to compare opinions on both sides of the Irish Sea.
65% of adults in Northern Ireland agree that abortion should not be a crime, with the number rising to a massive 81% in the rest of the UK.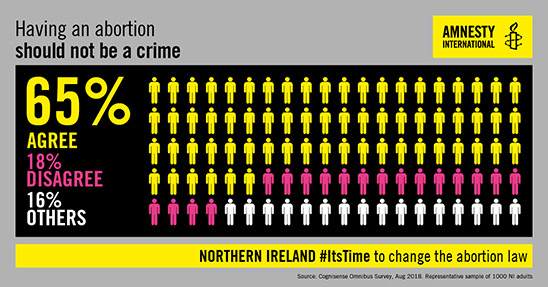 Grainne Teggart, our Northern Ireland Campaign Manager, said:
"Our research shows landslide support for reform to Northern Ireland's repressive abortion law. Every part of the UK agrees that abortion should be decriminalised and that Westminster should legislate for change.

"This confirms what we've long known - that most people in Northern Ireland and across the UK agree that it's completely wrong for Northern Irish women to be governed by an archaic law that denies them their rights, health and autonomy.
Until now reform has been put off due to the political climate in Northern Ireland, which currently doesn't have a government. But our poll shows that 66% of Northern Irish adults think that, without their own government, Westminster should act to change the law.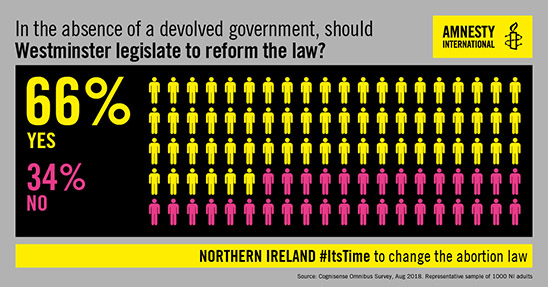 You can help us fight for change in Northern Ireland today. Almost 50,000 people have signed our petition to the UK government asking them to reform the law. Add your name today to help keep the pressure up.