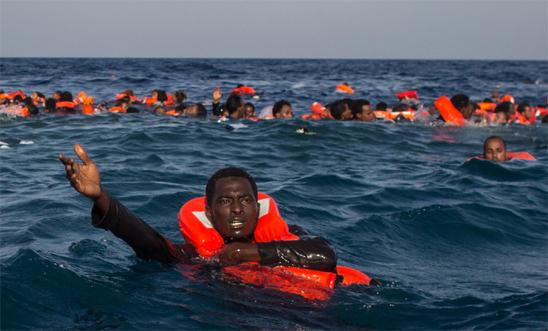 Pictures from the Human Rights Action Camp in Lampedusa from 20th - 27th July 2014. Action in Lampedusa on 25 July 2014: over 60 activists demand that EU leaders put people before borders! © Chris McGrath/Getty Images
BELFAST, Northern Ireland — A court has ruled against extending abortion rights for women and girls in Northern Ireland today.
The court ruled that Northern Ireland's restrictive abortion laws are in line with human rights standards.
Grainne Teggart, Campaigns Manager for Amnesty International said:
"Today's absurd ruling is an insult to women and girls and to everyone across the country who cares about justice. The judges had a chance to put right centuries of human rights abuse but with a flick of the pen they've just let down another generation of women and girls in Northern Ireland.

"Stormont has been failing women for too long and must act urgently to reform Northern Ireland's abortion laws and prioritise bringing legislation into line with international human rights standards, as previously called for by UN committees.

"This must include the decriminalisation of abortion. Women must no longer be forced to leave Northern Ireland for healthcare to which they are legally entitled."
The court assessed whether two previous rulings – which prohibit abortion even in the case of rape or incest or where the foetus has a fatal defect – were in breach of women's right to privacy.
It also looked at whether the laws are at odds with the right to be free from cruel and degrading treatment and discrimination.
It found that they are compliant on every count.
Sarah Ewart, whose first pregnancy was given a fatal foetal diagnosis and had to travel to England to terminate her pregnancy, said:
"This is a dark day for women's rights in Northern Ireland. Today's court ruling means that I, and women like me, will continue to be treated as second-class citizens, forced to leave Northern Ireland if we need to have a termination and denied the right to healthcare provided by doctors and midwives who know our situation.

"Northern Ireland's laws made my situation a living nightmare. I asked politicians for help and they failed to bring about the changes needed, and now the courts have joined them in refusing women their rights. It's shocking that this should be the case in 2017, but we will continue to fight for women in Northern Ireland to be given access to healthcare like women in the rest of the UK."
Watch Sarah's story:
Although the court implied that they wished abortion reform to be left in the hands of the Northern Ireland Assembly in Stormont, the judges said that they would support an appeal to the Supreme Court in London.