Urge El Salvador to end the ban on abortion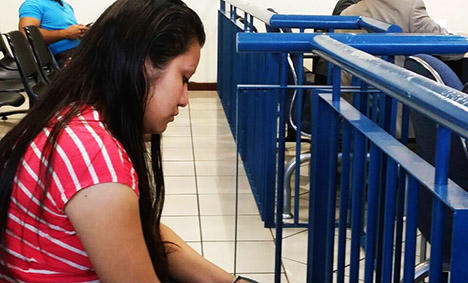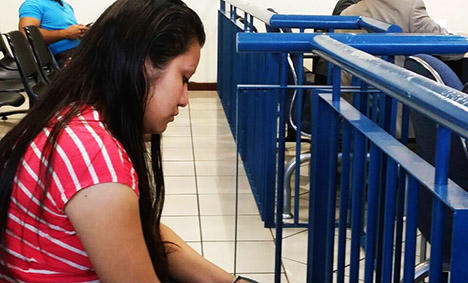 Women and girls are dying and being subjected to obscene prison sentences thanks to the total ban on abortion in El Salvador. Girls like Evelyn (pictured) — a teenage rape survivor who has just been jailed for 30 years for suffering a miscarriage. For the first time since 1998 there's a chance to overturn the archaic law causing unnecessary pain and suffering for thousands of women and children.
Salvadoran lawmakers will soon debate changes to this law. At this crucial moment, call on them to support the reformed laws that will respect, protect and fulfil the rights of women and girls.
Urge El Salvador to end the ban on abortion
The situation
On 5 July teenager Evelyn Beatriz Hernández Cruz was sentenced to 30 years in prison. Her crime? Suffering a miscarriage after a shocking sexual assault left her pregnant.
According to local reports Evelyn Hernández did not report her rape out of fear for the consequences. On 6 April 2016, she was admitted to a hospital in Cojutepeque, in the north of El Salvador, after having fainted at home. She had gone into labour without realising she was pregnant.
The hospital staff reported her to the authorities and she was charged with 'aggravated homicide' shortly after.
This young girl is just one of thousands denied their rights by El Salvador's blanket ban on abortion. This law is totally indiscriminate. No matter what age, or what circumstances: whether the result of rape, incest, or where there's potential harm to the mother. Even when a woman miscarries she can be charged with aggravated homicide, facing up to 40 years in jail.
A climate of fear
El Salvador's total ban on abortion came into law in 1998. When most countries were taking steps towards more progressive abortion laws, patriarchal and conservative pressure, including from the Catholic Church, resulted in stricter laws coming to force.
Under the current Salvadoran law, women who want to end a pregnancy are confronted with two options: commit a crime by having a secret abortion, or continue with the often life-threatening consequences.
This draconian legislation has created a culture of fear both in and out of the legal system. Conviction is often based on weak or inconclusive evidence, following flawed trials, and prosecuted mothers are often given limited and poor legal counsel. As we've seen from Evelyn's case, even girls that have no idea that they're pregnant may be convicted.
Meanwhile, doctors are scared of being charged with assisting abortions. Even in the case of ectopic pregnancy – a non-viable pregnancy where the foetus develops outside the womb, most commonly in a fallopian tube – doctors cannot act until the woman begins to haemorrhage, and is on the brink of death. A doctor on a public hospital maternity ward told us:
"We have to wait until the patient shows signs of haemorrhage, because otherwise it's illegal. Some colleagues will note on ultrasound scans: 'ectopic pregnancy: embryo alive'. Beneath that will be noted: 'remember, it is illegal to do this'. And the patient is even more confused."
This culture of fear has spread throughout the country to the point where aborting or miscarrying mothers are labelled 'baby killers' and treated as the most vile criminals.
Lack of education
The problem is made even worse by the lack of sexual education. Due to the intensely religious Salvadoran culture, many view female sexuality with shame and embarrassment, meaning women may never seek proper advice, or simply cannot find it.
It's also a huge barrier to contraception. A youth worker in El Salvador outlined the problem of obtaining parental consent, which may discourage some adolescents from seeking contraception and other reproductive health services:
"Young women are looked badly upon if they go and ask for condoms at the health clinic. If they want contraception, if they are under age, then they need to bring parental permission or be accompanied by their father or mother. There's no real access to contraception."
Support the reform
Evelyn's case highlights the urgency of debating the proposed reforms, and the upcoming debate provides us with a huge opportunity to change the lives of thousands of women in El Salvador.
If the changes pass, abortion will be decriminalised under certain circumstances, including when the mother's life is at risk, when the pregnancy is a result of rape, and where the foetus would not be able to survive outside the womb.
Many UN committees have already criticised the current blanket ban on abortion. What's more, the Salvadoran government has already shown they'll bend to pressure when people like you speak out. In 2013 we helped save a 22-year-old Salvadoran girl named Beatriz from a life-threatening pregnancy by pressuring the government to allow an early caesarean section.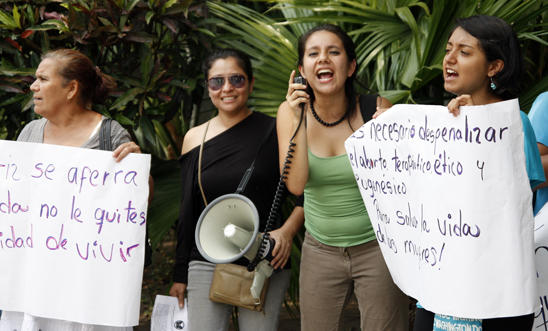 Activists support Beatriz outside the Constitutional Chamber of El Salvador's Supreme Court of Justice in 2013 © Amnesty International
We urge you to email top Salvadoran legislators, urging them to support the reforms and ensure access to abortion for all women.
Let's take Salvadoran women one step closer to the human rights they deserve.