Northern Ireland: campaigners mark end of Victorian era abortion ban at Stormont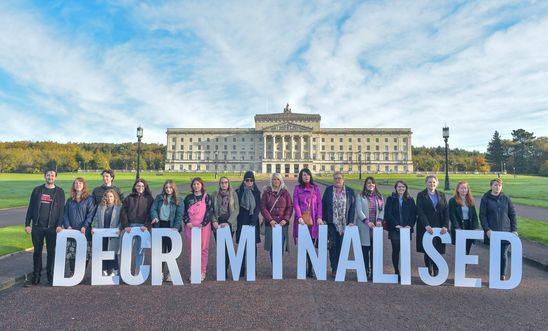 © Simon Graham
Campaigners mark the end of Northern Ireland's 158-year restrictive abortion law with a huge 3D 'DECRIMINALISED' sign at Stormont
The historic law change will take effect at midnight
All criminal proceedings will be dropped, including those against the mother who has faced prosecution for buying her 15-year-old daughter abortion pills online
'This is the beginning of a new era for Northern Ireland' – Grainne Teggart
Download pictures here [Credit: Simon Graham/Amnesty International] 
Amnesty International has unveiled a huge model of the word 'decriminalised' outside Stormont today to mark the decriminalisation of abortion, which will take effect at 00.01hrs tomorrow [Tuesday 22 October].
The law change will come into force tomorrow, as long as the Northern Ireland Executive is not restored by midnight tonight, with the UK Government legally obligated to ensure regulations for free, safe, legal and local abortion services are in place by 31 March 2020.
A moratorium on criminal prosecutions will take immediate effect, meaning that no police investigation may be carried out, and no criminal proceedings may be brought or continued. This means that the mother who faced a jail sentence for buying her then 15-year-old daughter abortion pills online will have the prosecution against her dropped. 
Grainne Teggart, Amnesty International's Northern Ireland campaign manager, said:
"At midnight history will be made. This is a hugely significant moment and the beginning of a new era for Northern Ireland – one in which we're free from oppressive laws that have policed our bodies and healthcare.

"No longer will those experiencing crisis pregnancy, who need to access abortion, feel they need to conceal what they're going through. People will be able to recieve support from doctors, midwives and other healthcare professionals without fear of being reported to the police and prosecuted.

"Finally, our human rights are being brought into the 21st century. This will end the suffering of so many people. We can now look forward to a more equal and compassionate future with our choices respected."
Sarah Ewart, who travelled for a termination following a fatal foetal diagnosis, said:
"This has been a long time coming. We have been fighting for years for change so that we can have compassionate healthcare at home. Finally abortion will be treated for what it is – a healthcare matter, and a decision between each individual woman and their doctor rather than police and judges. Medics will be able to treat women like me without fear of prosecution. The courts were correct when they said our rights are being violated – we need to leave the current law behind. I'm hugely relieved this moment has arrived." 
Abortion decriminalised
As long as Stormont doesn't reconvene by midnight on Monday 21 October, abortion will be decriminalised in Northern Ireland in relation to offences brought under sections 58 and 59 of the Offences Against the Person Act 1861. The law change will take effect on 22 October. The 1945 Act applies in the interim period of October to March 2020.
A moratorium on criminal prosecutions will take immediate effect in respect of an offence under these sections.
People who have received a diagnosis of serious or fatal foetal anomaly may be able to access abortion services locally. While there is no expectation that GPs will prescribe early medical abortion pills, they may do so in line with their professional competence and guidance from their professional body.
In other cases, abortion services in line with the new law will be available in Northern Ireland early next year. In the meantime, anyone who needs to travel for the healthcare will have all expenses – including treatment, travel and accommodation – paid for by the UK Government through the central booking system.
The UK Government will bring forward regulations to introduce a new framework on abortion in Northern Ireland. A consultation on the regulations which will govern abortion access will launch on or shortly after 22 October. The Northern Ireland Office is legally obligated to ensure regulations are in place by 31 March 2020.