Northern Ireland: court drops charges against mother prosecuted for buying daughter abortion pills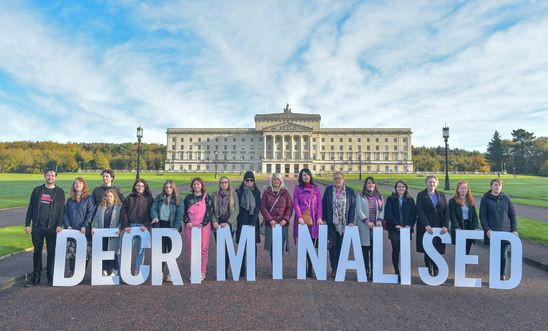 © Simon Graham
Case dropped as a result of abortion ban ending and moratorium on prosecutions taking effect
'For the first time in six years I can go back to being the mother I was' – the mother  
Belfast's Crown Court has today formally dropped charges against the mother who bought her then 15-year-old daughter abortion pills online, following abortion law reform that took effect in Northern Ireland yesterday. 
The Northern Ireland (executive formation) Bill took effect on Tuesday 22 October, decriminalising abortion in Northern Ireland and activating a moratorium on criminal prosecutions under the former abortion law. 
The Court formally discharged the mother, who until yesterday was facing a criminal trial and potentially up to five years in prison. Amnesty International acted as an intervenor in the judicial review that challenged the decision to prosecute.  
Reacting to her charges being dropped, the mother - who has remained anonymous throughout the process to protect her daughter's identity - said:
"My emotions are all over the place. I find it hard to put into words how I am feeling. 

"For the first time in six years I can go back to being the mother I was without the weight of this hanging over me every minute of every day. 

"I'm so thankful that the change in the law will allow other women and girls to deal with matters like this privately in their own family circle.

"I can finally move on with my life."
Grainne Teggart, Amnesty International's Northern Ireland campaign manager, said:
"Today is a huge relief. For six years this mother has been treated as a criminal just for helping her daughter access abortion pills that are available on the NHS in every other part of the UK.

"Now she can finally put the trauma of this ordeal behind her.

"Thankfully, our new abortion law means that no other women will have to be hauled through the courts and face criminal prosecution. This is the beginning of a more caring and compassionate Northern Ireland."
Jemma Conlon, the mother's lawyer, said:
"Today is a day of immense relief for my client who now finds herself free from the burden of this prosecution that has been in her life for 6 years. It is a day that she will forever remember and a day that allows her to move on with her life privately."