Northern Ireland abortion: High Court to rule on Sarah Ewart case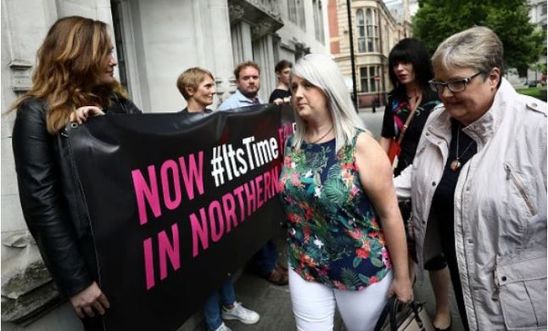 ***COURT JUDGMENT: 0930 HRS BST, THURSDAY 3 OCTOBER 2019*** 
Court could declare Northern Ireland's abortion law in breach of UK's human rights commitments 
'This must be the last time a woman is put through the agonising court process because she needs access to a healthcare service that is freely available elsewhere' – Sarah Ewart
'The UK Government will be faced with a new and urgent pressure to ensure reform is swiftly and effectively implemented' – Grainne Teggart
Where: Royal Courts of Justice, Chichester Street, Belfast BT1 3JF
What/when:
Thursday 3 October 2019 at 09.15 hrs: photo opportunity -

 Sarah Ewart and her mother Jane 

Christie 

, Amnesty International's Grainne Teggart, and legal team - Darragh Mackin of Phoenix Law - will arrive to court. Activists will hold banners reading 'The North Is Now' and 'Now for Northern Ireland'.
09.30 hrs: court hearing begins
Following the judgment: 

Sarah Ewart and Grainne Teggart will make a statement outside the court and will be available for interviews.  
The Belfast High Court will deliver a landmark judgment on a case that could find Northern Ireland's abortion law in breach of the UK's human rights commitments.
Amnesty International is an intervenor in the case and has supported Sarah Ewart - a woman who was forced to travel to England for an abortion after being told her pregnancy had a fatal foetal diagnosis - to bring her case to the court.
If the court rules in favour, it will deliver a formal 'declaration of incompatibility'*, confirming that Northern Ireland's abortion law is incompatible with the UK's human rights obligations.
In July, UK Parliament passed the Northern Ireland (Executive Formation) Act, which will decriminalisation abortion and make it lawful including in cases of risk to health, sexual crime and where there is a serious and fatal foetal abnormality. A favourable judgment would put pressure on the UK's Northern Ireland Office to ensure a swift transition to free, safe, legal and local abortion services.
Grainne Teggart, Amnesty International's Northern Ireland campaign manager, said:
"This case has come at a crucial moment for abortion rights in Northern Ireland. We're on the cusp of seeing decriminalisation, which will bring to an end healthcare being treated as a criminal justice matter.

"If the court rules that Northern Ireland's abortion law violates the UK's human rights commitments, it will effectively confirm that for generations we've been denied our rights. Living under the shackles of an inhumane and oppressive law has caused harm to so many.

"The UK Government will also be faced with a new and urgent pressure to ensure our rights are realised and reform is swiftly and effectively implemented.

"The Northern Ireland Office must swiftly put in place regulations to enable access to free, safe, legal and local abortion services in Northern Ireland. This change has been a long time coming."
Sarah Ewart, who travelled for a termination following a fatal foetal diagnosis, said:
"I'm doing this for me and the many other women who have suffered under Northern Ireland's hurtful abortion law. We need the judge to make clear that the law breaches mine and other women's rights.

"This must be the last time a woman is put through the agonising court process because she needs access to a healthcare service that is freely available elsewhere. We need change to come quickly."
Background to case:
This case was launched following a UK Supreme Court judgment in June 2018, in which five of the seven judges ruled that Northern Ireland's abortion law breaches the UK's human rights obligations. The UK's Supreme Court, however, was unable to issue a formal declaration of incompatibility* due to a legal technicality that meant the Northern Ireland Human Rights Commission (the body that brought the case) did not have the power to bring the proceedings forward, as it was not itself a 'victim' of any unlawful act. Amnesty subsequently launched a new case with Sarah Ewart in the hope that by bringing an individual's case to the Belfast High Court, the declaration of incompatibility will be achieved.