Trump UK visit: activists vow to 'resist' attacks on human rights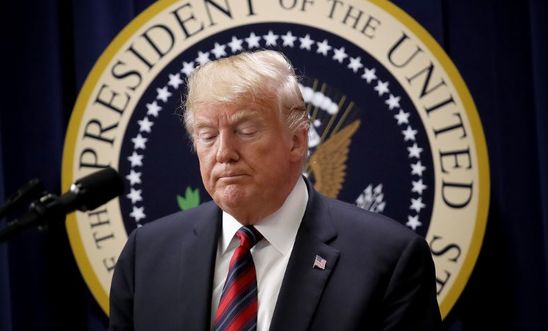 Donald Trump has overseen a string of repressive US policy moves as president © Win McNamee/Getty Images
Letter to Theresa May calls for UK to stand up for human rights within Anglo-American relationship
Giant 'Resist Trump' banners to be unfurled from Vauxhall Bridge in front of US Embassy (Monday 3 June, 10.30am)
'We need to resist Trump's trashing of human rights' - Kate Allen
Amnesty International has vowed to "resist" Donald Trump's attacks on human rights, ahead of the US president's state visit to the UK next week (3-5 June).
Pointing to a series of Trump administration moves hostile to human rights - including the imposition of a discriminatory travel ban, the detention of child migrants and the expansion of a "global gag rule" affecting funding for international women's health programmes (see longer list below) - Amnesty is calling on the UK Government to make a "robust stand" for human rights within the Anglo-American relationship.
In a letter to Theresa May, Amnesty is calling on the outgoing Prime Minister to stand up for human rights principles, specifically criticising the USA's recent decision to withdraw its support for the global Arms Trade Treaty and its policies on women's rights.
Ahead of Mr Trump's three-day visit, Amnesty activists plan to take their "resist" message to the US Embassy in central London - unfurling five giant 20-metre-long banners from Vauxhall Bridge directly facing the embassy (Monday 3 June, 10.30am; Vauxhall Bridge, London SW1V 1AA). 
The five brightly-coloured banners will say: "Resist sexism", "Resist racism", "Resist hate", "Resist cruelty" and "Resist Trump".
(Note to editors: photographers are advised that the banners can be photographed from St George Wharf Pier, on the south side of the River Thames, accessed from Riverside Walk). 
Donald Trump's often bellicose language and punitive policies toward migrants have been a particularly worrying theme of his presidency. Last week, Amnesty drew attention to the case of Dr Scott Warren, a volunteer in Arizona who faces a possible 20-year jail term for giving food, water and clothing to migrants in a US-Mexico border town in an area where thousands of migrants have previously died because of harsh desert conditions. 
Kate Allen, Amnesty International UK Section's Director, said:
"Trump has presided over two-and-a-half years of utterly shameful policies.

"Locking up child migrants, imposing a discriminatory travel ban, decimating global funding for women's rights and withdrawing from global human rights bodies - it's been a roll call of shame under Donald Trump's presidency.

"We need to resist Trump's trashing of human rights. 

"Within the Anglo-American relationship, we'd like to see the UK Government being far more vocal about human rights.  

"Our fear is that the Government's desperate hunger for post-Brexit trade deals with the USA could mean we end up giving a free pass to the White House as this onslaught against human rights continues."
Two-and-a-half years of human rights violations
Among other things, Amnesty has strongly criticised President Trump's administration for:
*Separating child migrants from their parents
*Reinstating and expanding a "global gag" rule affecting funding for international women's health programmes
*Pushing ahead with a revised multi-country travel ban
*Saying it would formally withdraw its support for the global Arms trade Treaty 
*Withdrawing from the UN Human Rights Council and the Paris Agreement on the climate emergency
*Blocking the work of the International Criminal Court and withdrawing from the UN Human Rights Council
*Making remarks apparently excusing racist violence at neo-Nazi gatherings such as Charlottesville
*Having no regard for serious allegations of sexual assault against a Supreme Court nominee
*Using phrases like "enemies of the state" to describe journalists, and limiting or cancelling altogether regular press briefings
*Failing to introduce wide-ranging new gun-controls laws
*Continuing to sell military equipment to countries with poor human rights records, including Saudi Arabia, Egypt and Bahrain
*Introducing a ban on trans people in the military
*Drastically reducing the number of refugees the USA would admit annually
*Ending "Temporary Protected Status" for over 250,000 people from El Salvador
*Recognising Jerusalem as the capital of Israel
*Failing in any way to hold leaders of governments in Saudi Arabia, Hungary, Turkey (among others) accountable for appalling human rights records
*Terminating funding for the UN's Palestinian refugee agency
*Issuing an executive order on the US-Mexico border which allows for the forcible return of people to life-threatening situations
*Significantly increasing the rate of US drone strikes in Somalia and failing to acknowledge civilian casualties
*Failing to investigate the deaths of civilians in large-scale US-led bombing operations in Mosul and Raqqa 
*Appointing Gina Haspel as director of the CIA
*Pushing thousands of asylum-seekers at the Mexico border back into Mexico
*Cavalierly suggesting the possible use of nuclear weapons in response to a cyber-attack in the USA and the imposition of death sentences in drugs cases
*Constructing the Dakota pipeline despite environmental and cultural concerns