USA: disappointment over Supreme Court decision on 'discriminatory' travel ban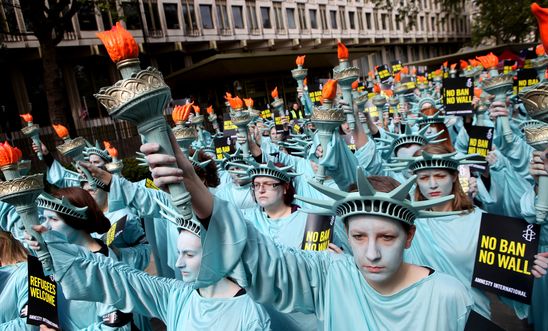 Protesters outside the US Embassy in London earlier this year © Marie-Anne Ventoura
Following the US Supreme Court's decision yesterday to allow President Trump's travel ban to go into full effect pending legal challenges, Ashley Houghton, Amnesty International USA's Tactical Campaigns Manager, said:
"This ban has always been, at its core, deeply cruel and discriminatory. 
"It goes against our shared American values of dignity and equality for everyone, no matter where you come from or how you worship. 
"Rather than keep anyone safe, the travel ban has caused chaos and instability for thousands of people who just want to travel without fear and be reunited with their families."
Amnesty has previously warned that if implemented the travel ban would "jeopardise the lives of the world's most vulnerable people".