Trump travel ban: exclusion of refugees will 'jeopardise lives'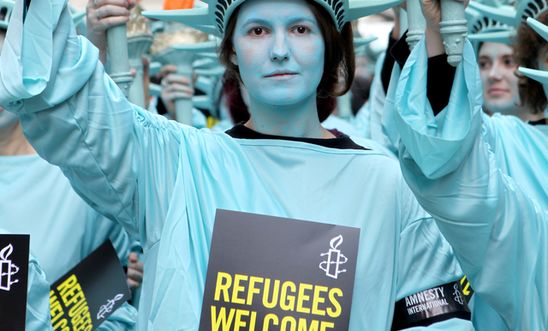 Protesters outside the US Embassy in London earlier this year © Marie-Anne Ventoura
'This policy is effectively a ban on many refugees and will have devastating effects for people in the process of being resettled' -  Naureen Shah
Responding to an announcement by the US State Department yesterday that refugees seeking to travel to the USA will not be considered as having a "bona fide relationship" for the purposes of entering the country under new travel ban guidance, Naureen Shah, Amnesty International USA's senior director of campaigns, said:
"This policy is effectively a ban on many refugees and will have devastating effects for people in the process of being resettled. 

"It will jeopardise the lives of the world's most vulnerable people, including people and families fleeing war, violence and torture. 
 
"It is also unconscionable and hypocritical for President Trump to double down on banning refugees while his administration threatens President Assad over chemical attacks."
The decision means tens of thousands of refugees from countries all over the world who were in the process of being resettled in the USA may not now be able to enter the country this fiscal year. Earlier this week, the White House announced new criteria for visa applicants from six Muslim-majority countries and all refugees, requiring them to have a "close" family or business tie to the US. The rules - affecting people from Iran, Libya, Syria, Somalia, Sudan and Yemen - have now come into force. Meanwhile, on Monday, Amnesty filed a Freedom of Information Act request for documents showing exactly how key federal agencies were intending to implement the ban. 
Monitors at US airports
Amnesty has stationed researchers at airports in New York City, Washington DC and Los Angeles to monitor how the ban is being implemented and to help people understand and protect their rights. Amnesty observers will be documenting the impact of the new measures on travellers arriving in the USA, as well as those waiting for their loved ones to arrive from affected countries.
Knock-on effects at UK airports: people urged to report incidents to Amnesty 
Meanwhile, it is feared that people intending to travel to the USA from UK airports may be refused permission to board their flights, not least if UK airport staff and airlines are unsure of how to interpret and implement the new restrictions. Amnesty is urging passengers and their friends and family - as well as fellow passengers and airport staff - to report incidents of flight refusal to Amnesty UK, which will be monitoring the effects of the travel ban on the UK.
Amnesty is issuing appeals via social media, including the following: "Seen Trump's #TravelBan in action? Let us know about it by tweeting @AmnestyUK - take photos/videos of incidents if possible & safe".