USA: volunteer who gave food and water to migrants in desert faces 20 years in jail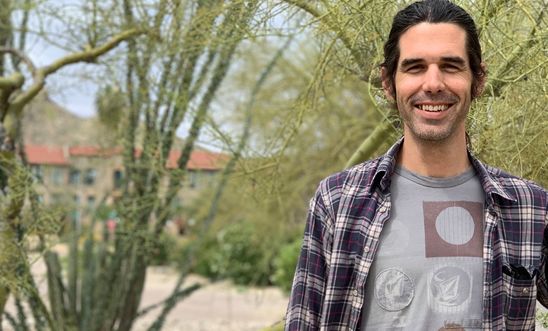 Dr Scott Warren has previously been convicted of 'littering' after leaving water in the desert for migrants © Alli Jarrar/Amnesty International
Dr Scott Warren to go on trial next week for 'harbouring' migrants in Arizona
'Providing humanitarian aid is never a crime' - Erika Guevara-Rosas
Amnesty International has sent an open letter to the authorities in the US state of Arizona calling for charges to be dropped against a humanitarian volunteer who is set to go on trial for helping migrants in a notoriously dangerous desert area of the state.
The US authorities are prosecuting Dr Scott Warren, 36, for "harbouring" two undocumented migrants by providing them with humanitarian aid in the form of food, water and clean clothing in the desert town of Ajo where he lives.
If convicted of three criminal charges against him, Dr Warren could face up to 20 years in prison. His trial is scheduled to begin next week (29 May). 
Earlier this year, Warren and eight other volunteers with the organisation No More Deaths/No Más Muertes were also prosecuted for the misdemeanor charges of littering and trespassing, specifically for leaving water and other humanitarian aid in desert areas where migrants have frequently died. 
Arizona has the deadliest border area in the USA, accounting for more than a third (38%) of the 7,242 border deaths recorded by US border authorities over the last 20 years. The actual number of deaths is likely to be higher, as local media and organisations have sometimes counted more than official statistics, and the border authorities have not always registered or collected the remains of bodies reported to them by volunteers.
Amnesty believes the volunteer activities of Dr Warren and No More Deaths provide vital humanitarian aid directed at upholding the right to life and preventing the deaths of migrants and asylum-seekers in the Sonoran Desert.
Erika Guevara-Rosas, Amnesty International's Americas Director, said: 
"Providing humanitarian aid is never a crime.

"If Dr Warren were convicted and imprisoned on these absurd charges, he would be a prisoner of conscience, detained for his volunteer activities motivated by humanitarian principles and his religious beliefs. 

"The US Government is legally required to prevent the arbitrary deaths of migrants and asylum-seekers in border areas. Yet instead, the authorities have willfully destroyed humanitarian aid provisions in deadly desert terrain and are criminally prosecuting humanitarian volunteers in order to deter them from saving lives. 

"The US Government should immediately adopt and implement exemptions from criminal prosecution under 'smuggling' and 'harbouring' charges, for the provision of humanitarian aid."