USA immigration: more family separations than previously disclosed - new report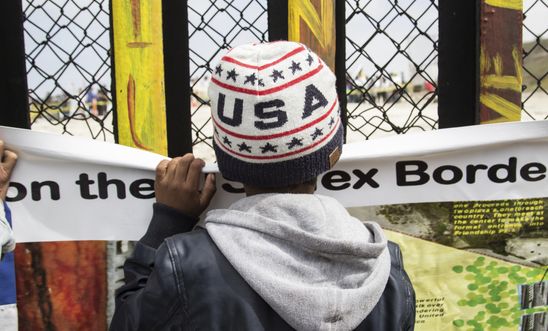 There has been huge public outcry over the policy of separating migrant children from family members © Leigh Parks
Trump administration admits to Amnesty separating approximately 8,000 'family units' since early 2017, with 6,000 in a four-month period
Cases include 15 trans and gay asylum-seekers detained without parole for periods of up to three years 
'The intensity, scale and scope of the abuses against people seeking asylum are truly sickening' - Erika Guevara-Rosas
The US government has deliberately adopted immigration practices that have caused catastrophic harm to thousands of people seeking safety in the United States, including the separation of over 6,000 "family units" in a four-month period, more than previously disclosed by the authorities, Amnesty International said in a new report today.
Amnesty's 74-page report - 'You Don't Have any Rights Here' - reveals the brutal toll of the Trump administration's approach to immigration, which is in gross violation of US and international law. The cruel policies and practices documented include: mass illegal pushbacks of asylum-seekers at the US-Mexico border; thousands of illegal family separations; and increasingly arbitrary and indefinite detentions of asylum-seekers, frequently without parole.
Last month, the Customs and Border Protection agency disclosed to Amnesty that it forcibly separated over 6,000 "family units" (a term the US authorities use to refer to whole families or individual family members) from 19 April to 15 August this year alone - more than previously admitted. 
The agency confirmed that this figure still excluded an undisclosed number of families whose separations were not properly recorded, such as grandparents or other non-immediate family members, whose relationships the authorities categorise as "fraudulent" and do not count in their statistics. In total, the Trump administration has now admitted to separating approximately 8,000 family units since early 2017. 
The extreme suffering the US authorities have purposefully inflicted by separating families constitutes ill-treatment and in some cases torture, said Amnesty. 
Amnesty interviewed 15 parents and guardians separated from their children by US border and immigration authorities, including 13 who presented themselves at official border crossings. These separations resulted in extreme anguish, and in some instances long-term trauma, for adults and children alike. In an immigration detention facility in Texas, a 39-year-old Brazilian mother called Valquiria told Amnesty that in March this year Customs and Border Protection agents separated her from her seven-year-old son - without providing a reason - the day after they requested asylum at an official port-of-entry. She said:
"They told me: 'You don't have any rights here, and you don't have any rights to stay with your son'. I died at that moment. It would have been better if I had dropped dead … Not knowing where my son was, what he was doing. It was the worst feeling a mother could have. How can a mother not have the right to be with her son?" 
Erika Guevara-Rosas, Amnesty International's Americas Director, said: 
"These shocking new numbers suggest that the US authorities have either misinformed the public about how many families they had forcibly separated, or they continued this unlawful practice unabated, despite their own claims and court orders to halt family separations.
 
"The intensity, scale and scope of the abuses against people seeking asylum are truly sickening. 
 
"The Trump administration is waging a deliberate campaign of widespread human rights violations in order to punish and deter people seeking safety at the US-Mexico border.
"Congress and US law-enforcement agencies must conduct prompt, thorough and impartial investigations to hold the government accountable and ensure this never happens again."
Illegal pushbacks and arbitrary detention
In 2017 and 2018, the Customs and Border Protection agency implemented a de facto policy of turning away thousands of people seeking asylum at official ports-of-entry along the entire US-Mexico border. Since 2017, the US authorities have also imposed a policy of mandatory and indefinite detention of asylum-seekers, frequently without parole, for the duration of their asylum claims. This constitutes arbitrary detention, in violation of US and international law.
Amnesty interviewed asylum-seekers being detained indefinitely after requesting protection, including separated family members, older people, and persons with acute health conditions and medical needs. Amnesty also documented the cases of 15 transgender and gay asylum-seekers who were detained for periods ranging from several months to almost three years without parole, including two people who were denied parole despite having suffered sexual assaults while in detention. In several cases, their experiences of indefinite detention constituted ill-treatment.
 
Downloads