Dakota pipeline, USA: army decision to allow construction is 'unlawful'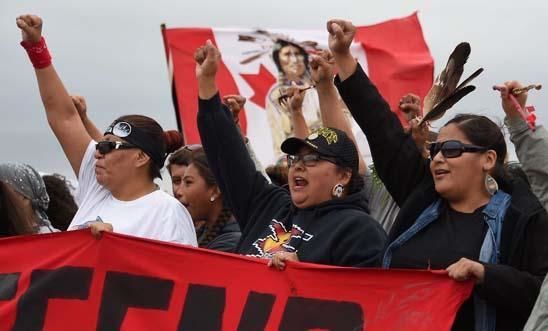 There have been numerous protests by indigenous people at the pipeline site
'This is an unlawful and appalling violation of human rights' - Eric Ferrero
Following the announcement yesterday by the US Army Corps of Engineers that it will allow the controversial Dakota Access Pipeline to be completed, Amnesty International USA's Eric Ferrero said:
"This is an unlawful and appalling violation of human rights. 

 

"The United States is obligated under international law to respect the rights of the Standing Rock Sioux Tribe and all other indigenous peoples. To allow this pipeline to go forward without sufficient assessment of how it will impact their land, culture, and access to clean water is a violation of their right and sovereignty of their land."
Last week Amnesty International sent a letter to the acting Secretary of the Army saying that construction of the Dakota Access Pipeline should not resume until the Army's environmental impact review was completed and the consent of the Standing Rock Sioux Tribe was sought.
Amnesty has previously sent human rights observers to the construction site to monitor policing of protesters, who call themselves water protectors. Yesterday's announcement opens the door to more protests.
Eric Ferrero added:
"Police have a duty to protect the rights of free expression and peaceful protest. 

 

"We urge law enforcement to exercise restraint and to act in a manner that de-escalates tensions instead of inflaming them."