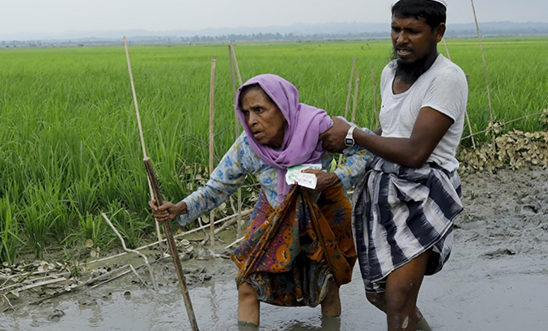 It's been just over a month since violence broke out in Myanmar's northern Rakhine State, and the daily horrors continue in full force with absolutely no signs of stopping. 
Act now to demand an end to the violence in Myanmar
Following the initial attack by a Rohingya armed group on 25 August, Myanmar's security forces have engaged in an unlawful and disproportionate campaign of savage violence against the Rohingya in retaliation. 
In legal terms, the systematic attacks on the Rohingya population amount to crimes against humanity. Many people – including children – have been killed or injured, and more than 500,000 have become refugees during a crusade of ethnic cleansing. 
String of tragedies
Our teams on the ground have documented many human rights violations including unlawful killings, large scale burning of homes and villages, and the use of internationally-banned landmines by the Myanmar Army. 
In the latest of string of tragedies, a boat carrying dozens of refugees capsized off the coast of Bangladesh with more than 60 people, children among them, presumed dead.
"If I collected all our tears, it would fill this river". Share Jamalida's harrowing story https://t.co/eaDiNtCwPE #IAmRohingya pic.twitter.com/Oe0El21Efh

— Salil Shetty (@SalilShetty) September 28, 2017
What's happening to #Rohingya still stuck in #Myanmar is rarely reported. Half the population maybe in #Bangladesh but 1000s remain trapped. https://t.co/L3wn4cD3dE

— Tirana Hassan (@TiranaHassan) October 2, 2017
"Damning" video and satellite evidence shows new fires in Rohingya villages#Myanmar https://t.co/NH2WO7rVst pic.twitter.com/RJJq30jnZY

— News From Amnesty (@NewsFromAmnesty) September 22, 2017
But it gets worse: the Myanmar authorities are continuing to severely restrict humanitarian access to the UN and other international humanitarian organisations to northern Rakhine State, putting tens of thousands of lives at risk. According to latest UN estimates over half a million Rohingya have fled to Bangladesh. Tens of thousands of others – Rohingya and members of other ethnic minorities – are displaced within Rakhine State.
Make no mistake: this is still a shockingly desperate and deadly situation that's not getting any better.
What are Amnesty doing about it?
As well as having crisis teams in Bangladesh investigating the situation on the ground, we have been in touch with the European Union about the steps they must take. 
The EU and its member states have to send a clear message to the Myanmar authorities that failure to address the current crisis will be met with strong action. 
With this in mind, we have written to Federica Mogherini, High Representative of the EU, to urge that the EU and its member states take decisive and immediate action for human rights in Myanmar.  
Inaction is not an option: our Director @KateAllenAI on what must be done to end the violence in Myanmar ↓ https://t.co/8UNAym3x5P

— Amnesty UK (@AmnestyUK) October 1, 2017
Until last year, the EU was the chief sponsor of an annual resolution on the situation of human rights in Myanmar. But last year, they decided to stop their efforts – a move we strongly opposed at the time.  
We now want them to revive the resolution given the gravity of the humanitarian catastrophe currently engulfing Rakhine State. 
We are also urging that they extend their existing arms embargo against Myanmar to include all forms of military assistance, and to impose financial sanctions against those responsible for international crimes. 
In addition to that, we have written to the chair of the Association of Southeast Asian Nations (ASEAN), of which Myanmar is a member state, calling for an emergency summit to deal with this crisis. The ASEAN's response to the situation so far has been a bland statement that failed to even mention the word 'Rohingya'. It's not good enough and they need to take a firmer stand. 
Finally, the Bangladesh and Myanmar governments announced this week potential plans of Rohingya refugees returning home. The international community must help ensure that no one is forced back to Myanmar as long as they are at serious risk – they must be allowed to go back to their homes voluntarily and in safety and dignity
How you can help:
There's someone who can stop the violence immediately. General Min Aung Hlaing, Commander-in-Chief of the Myanmar Army, has the power to stop the brutal ethnic cleansing in Rakhine State whenever he wants.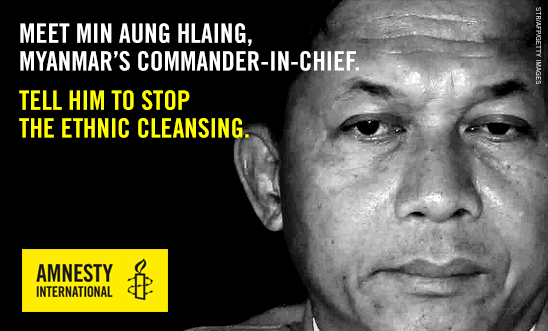 Keep the pressure on the Chief Commander by adding your voice to our petition urging him to end the ethnic cleansing. 
We will continue to send your signatures to him, and we won't stop until this living nightmare stops. Sign your name now.