Myanmar: Amnesty letter accuses ASEAN regional body of 'failing' Rohingya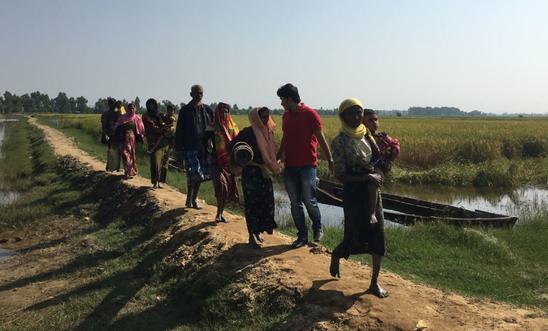 Southeast Asian leaders must take urgent steps to address grave human rights violations against the Rohingya in Myanmar, Amnesty International said in a letter sent to the chair of the Association of Southeast Asian Nations (ASEAN) today.
The letter, signed by directors of 13 Amnesty offices across the Asia-Pacific region, called for an emergency ASEAN summit to deal with the human rights and humanitarian crisis in Myanmar's northern Rakhine State.
ASEAN's only response to the crisis so far has been a bland statement – issued on 24 September, almost a month after the atrocities in Rakhine State had begun – expressing "concern" about the situation, and failing to even mention the word "Rohingya".
Amnesty's letter says this response "does not go far enough" and adds: "What is required is a much more significant response from ASEAN to the crisis in Myanmar."
James Gomez, Amnesty International's Director for Southeast Asia and the Pacific, said:
"ASEAN is failing to take a stand as one of its member states carries out a violent campaign of ethnic cleansing.

"Governments in the region must uphold the commitments to human rights enshrined in the ASEAN Charter, commitments which Myanmar's military is showing clear contempt for as they perpetrate crimes against humanity against the Rohingya."
Since a Rohingya armed group attacked dozens of security force posts on 25 August, Myanmar has engaged in an unlawful and brutal campaign of violence against the Rohingya. Amnesty has documented numerous human rights violations, including unlawful killings and large-scale burning of homes and villages.
These are part of a campaign of ethnic cleansing, which in legal terms amounts to crimes against humanity, including murder and deportation or forcible transfer of population. Amnesty has also confirmed the use of anti-personnel landmines by the Myanmar army.
Amnesty is calling on the Government of the Philippines – as the current ASEAN chair – to hold an emergency ASEAN Summit to facilitate discussions with Myanmar on:
•           Ending the violence, human rights violations and crimes under international law.
•           Ensuring humanitarian assistance to Rohingya refugees, and the safe and dignified return of those who wish to go home.
•           Supporting independent investigations into human rights violations and helping to bring perpetrators to justice.
•           Ending entrenched discrimination against the Rohingya.
The letter is signed by Amnesty directors in Australia, Hong Kong, India, Indonesia, Japan, South Korea, Malaysia, Mongolia, Nepal, New Zealand, the Philippines, Thailand and Taiwan.