Rohingya refugees in Bangladesh must not be forced home to abuse and discrimination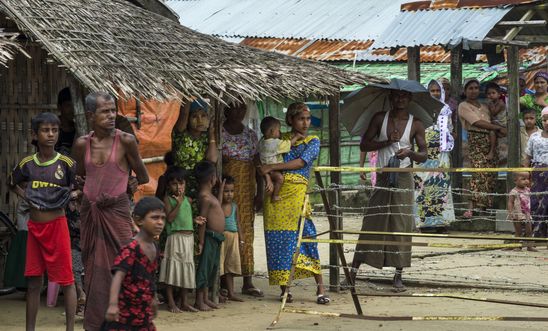 The international community must help ensure that no Rohingya refugees are forced back to Myanmar as long as they are at risk of serious human rights violations following the army's vicious campaign of ethnic cleansing, Amnesty International said today.
The governments of Bangladesh and Myanmar this week announced that they have established a working group to discuss the repatriation of Rohingya refugees. More than 500,000 Rohingya women, men and children recently fled a military operation in the country's Rakhine State in little more than a month.
Audrey Gaughran, Amnesty International's Director of Global Issues, said:
"While it is positive that Myanmar and Bangladesh are discussing options for the safe return of Rohingya to their homes, this must be a voluntary process and not lead to a hasty and reckless effort to push people back against their will.

"The Myanmar military's horrific campaign against the Rohingya in Rakhine State amounts to crimes against humanity. The very first condition that must be met before any repatriation plan becomes reality is an unconditional end to the violence.

"But this is not enough. The Myanmar government must also end the entrenched discrimination that has trapped Rohingya in a cycle of deprivation and abuse for decades."
On 2 October, Bangladesh's Foreign Minister AH Mahmood Ali said Myanmar had "shown interest" in taking Rohingya refugees back after a meeting between officials from both countries. Details of the proposal have yet to be made public, and it is unclear if it only covers the recent waves of refugees or those who have lived in Bangladesh for decades.
In the 1990s and early 2000s, tens of thousands of Rohingya refugees were returned from Bangladesh to Myanmar in a large-scale repatriation operation, with the assistance of the UN Refugee Agency, UNHCR. Those returned have continued to face systematic state-sponsored discrimination and violence in Rakhine. At the time, rights groups, including Amnesty, raised serious concerns about people being forced back against their will with minimal consultation, and of international agencies – including the UN – being sidelined during the process.
The forcible return of refugees violates the principle on non-refoulement, an absolute prohibition in international and customary law on returning people to a territory where they could face a risk to their lives or other serious human rights violations. In order for any return process to be truly voluntary, Rohingya must also be provided with alternatives to return, including the option to seek international protection.
Audrey Gaughran said:
"Rohingya refugees must be allowed to go back to their homes voluntarily and in safety and dignity. The Myanmar government must make every effort to rebuild communities and villages destroyed by fighting, and to end the entrenched discrimination and segregation of the Rohingya which lies at the heart of this crisis."
Safe zones and displacement camps
In recent weeks, Bangladeshi officials have also spoken publicly about a need to establish 'safe zones' inside Myanmar. Such 'safe zones', however, have a chequered history when established in other conflicts. For example, both in Bosnia-Herzegovina in 1993 and in Sri Lanka in 2009, 'safe zones' failed to prevent mass killings and other human rights abuses against people on the run.
Audrey Gaughran said:
"Calls for safe zones, however well-intentioned, should be treated with extreme caution. Past experience shows that such areas can not only facilitate violations against those displaced, but could also prevent people from fleeing to safety. In Rakhine State, such areas could also further entrench the isolation and segregation of the Rohingya community."
Also concerning is an announcement in early September by the Myanmar authorities that they will establish displacement camps and settlement zones in northern Rakhine state. Displacement camps established in Myanmar for mainly Rohingya people after waves of violence in 2012 have been little more than open-air prisons where women, men and children live in deplorable conditions, with the government restricting the access of aid agencies. They have cemented the isolation of tens of thousands of Rohingya people from the outside world.
Audrey Gaughran said:
"The international community must send a clear message that it will not allow a repeat of 2012. Donors must establish red lines and make clear that they will not fund any proposed 'solutions' leading to forced returns from Bangladesh, or the displacement and continued segregation of the Rohingya.

"Failure to do so would not only support the continuation of human rights violations, it would make the international community complicit in them."