Three activists face prison for peaceful rally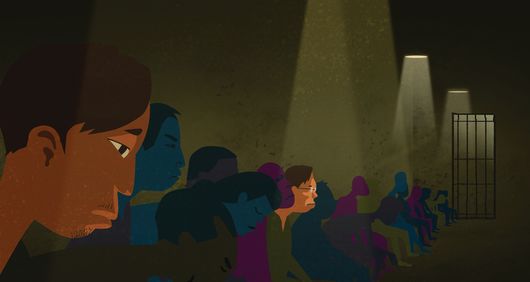 Three activists are facing prison sentences for giving speeches criticising the military and calling for constitutional reform at a peaceful rally in April 2019. If convicted, they face up to two years in prison. Two of the men are on bail, while one is already serving one year in prison and facing further charges for speaking at other peaceful rallies. The Myanmar authorities should release him immediately and unconditionally, quash his conviction, and drop all remaining charges against the three activists.
Background
On 3 April 2019 Kyee Myint, Saw Wai, and Nay Myo Zin attended a rally in Kawthaung in Tanintharyi Region, southern Myanmar. At the rally, attended by about 700 people, they made speeches in which they criticised the Myanmar Military and its role in politics, and called for constitutional reforms. Kyee Myint called for the Constitution to be amended to protect the people of Myanmar and prevent the military from staging a coup, while Saw Wai – whose real name is Saw Win – recited a poem, asking the audience to chant, "reject evil laws".
More than six months later, on 17 October 2019, Lt. Col Zaw Zaw, of the Myanmar Military's Costal Command, filed charges against the three men under Section 505(a) of the Penal Code, which prohibits the circulation of statements and reports with "intent to cause, or which is likely to cause, any officer, soldier, sailor or airman, in the Army, Navy or Air Force to mutiny or otherwise disregard or fail in his duty". The provision, which carries up to two years in prison, has been increasingly used by the Myanmar Military to target critics over the last year.
The Myanmar Military continues to wield significant economic and political power in the country. It operates independently of civilian oversight, effectively shielding members of the military from accountability. Under Myanmar's 2008 Constitution, the military also has a guaranteed 25 per cent of seats in Parliament, giving it an effective veto over key Constitutional amendments. It also controls the three key ministries of Defence, Border Affairs, and Home Affairs. 
Amnesty International is concerned about the ongoing arrest and detention of activists and human rights defenders in Myanmar, merely for the peaceful exercise of their right to freedom of expression.
Taking action
Send a letter to Lieutenant General Soe Htut:
Minister of Home Affairs
Ministry of Home Affairs Office No. 10, Nay Pyi Taw
Republic of the Union of Myanmar
Fax: +95 67 412439
Email: mohamyanmar@gmail.com
You can also send copies to your country's embassy:
Ambassador Kyaw Zwar Minn,
Embassy of Myanmar,
19a Charles St, Mayfair,
London W1J 5DX
Downloads