Israel and Palestine: The quest for justice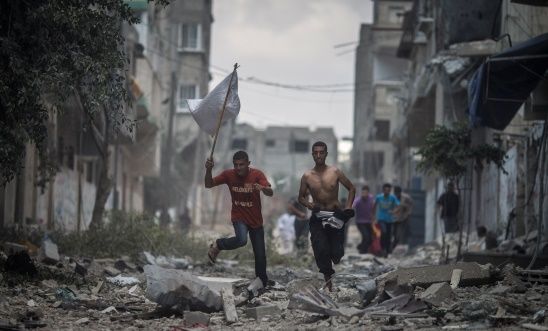 Rescue workers enter Shuja'iyya, Gaza, to retrieve dead and wounded during Operation Protective Edge. © EPA/OLIVER WEIKEN
On the last day of 2014, the Palestinian government took the first positive step towards joining the International Criminal Court (ICC).
They officially joined the ICC on 1 April 2015, which means that crimes committed in the Occupied Palestinian Territories (OPT) will be covered by the court's jurisdiction.
Alleged crimes committed during the most recent Israel-Gaza conflict could also be investigated.
Punished for seeking justice
Just one day after the Palestinian President Abbas signed the Rome Statute for the ICC, Israel suspended payment of US$127 million in tax revenues due to the Palestinian authorities.
We also fear that the USA may invoke a law passed by Congress in December requiring the government to stop its annual Economic Support Fund aid (amounting to $500 million) on which so many Palestinians rely.
'Rather than punishing an entire population by holding back tax payments, Israel should support a process that could lead to justice both for its own citizens as well as Palestinians.
'The UK and other EU countries should have the courage to support the Palestinians' quest for justice.'

Allan Hogarth, Amnesty UK's Head of Policy and Government Affairs
Background to the conflict
The bloody Israeli-Palestinian conflict has been raging on and off for decades. Civilians on both sides continue to bear the brunt of the enduring violence.
In the summer of 2014, more than 2,000 civilians were killed, including more than 500 children, during Israel's land invasion in Gaza.
Gazan homes, businesses and infrastructure were destroyed, leaving thousands without shelter, water or medical care. Both sides committed serious violations of international humanitarian law, including war crimes.
The suffering for Palestinians in Gaza is compounded by Israel's ongoing blockade and the legacy of previous conflicts, which have had a devastating effect.
Before the most recent conflict, Israeli restrictions meant that 75,000 housing units and 259 schools destroyed during previous conflicts were never re-built.
Ongoing impunity
Israel has repeatedly denied access to Gaza to the UN Commission of Inquiry, which is intended to investigate all violations of international humanitarian law. And Israel continues to deny access to us and other human rights organisations researching allegations of war crimes during the conflict.
Perpetrators on both sides have enjoyed impunity as both Israeli and Palestinian authorities have failed over many years to bring justice, truth and reparation to victims.
Despite participating in the establishment of the ICC, Israel has not ratified the Rome Statute – the governing document of the ICC outlining international crimes – but their citizens can still be tried for crimes committed elsewhere.