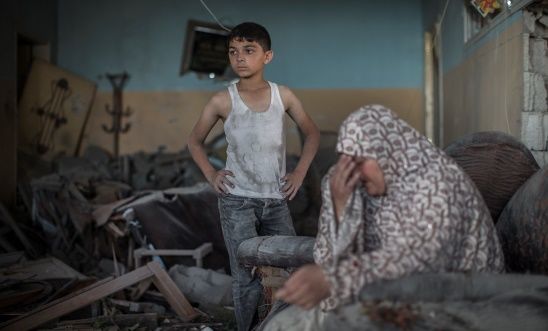 A Palestinian woman and her son in their house which was badly damaged in an airstrike by Israeli Defense Forces, 17 July 2014. © EPA/OLIVER WEIKEN
Sunday 20 July, 6.45pm: Three missiles strike the apartment of the al-Hallaq family in a residential neighbourhood of Gaza.
One detonates in the family's TV room where three of their children were watching cartoons – killing all of them. Another hits the kitchen, killing three women who had been preparing a fast-breaking meal during Ramadan.
At least two of the missiles pierce through the floor into the home of the Anmar family below, killing their three children.
'It was terrifying; we couldn't save anyone ... All of the kids were burnt. I couldn't tell which were mine and which were the neighbours' ... It was impossible to recognise them or their features. We carried whoever we were able to the ambulance ... I only recognised Ibrahim, my eldest child, when I saw his leg and the shoes he was wearing. I had bought them for him two days before.'
Khalil Anmar, 45, father of four and a doctor with the Palestinian Medical Council 
Families under the rubble
During Israel's recent military operation in Gaza, 'Operation Protective Edge', family homes were among the targets for airstrikes. The scale of destruction during this 50-day conflict is horrendous.
More than 2,192 Palestinians died during the operation – 519 of them children. Tens of thousands were left homeless, without the most basic services such as water.
Our research shows there was a failure to take necessary precautions to avoid excessive harm to civilians and civilian property, which is against international humanitarian law.
It appears that several of the attacks directly and deliberately targeted civilians or civilian objects, which constitutes war crimes. In many of the cases we investigated, no prior warning was given to residents to allow them to escape.
Mustafa Mahmoud al-Louh, 60, was preparing to leave to the mosque when his family home was attacked:
'At 5am I was washing to prepare for prayers at the mosque when our house was hit... There was no prior warning or anything. Two of the little children we found on the roof... and their mother was found in agricultural land 100 metres away, her body scattered… She was nine months pregnant. They took them all to the hospital and tried to save the unborn child, but it died a few minutes after the doctors took it out.'
Take action – call on the UK to stop arming Israel
No military justification
In the last four days of the conflict, Israeli attacks on four multi-storey civilian buildings were in contravention of international humanitarian law.
While the Israeli military warned the residents of these four buildings to leave before they destroyed them, scores of people from nearby buildings were injured and hundreds of people were devastated to lose their homes, businesses and belongings.
Other than the suggestion that one of the destroyed buildings housed a Hamas command centre and 'facilities linked to Palestinian militants' in another, the Israeli authorities have provided no information as to why they destroyed four entire buildings.
Our evidence shows this large-scale destruction was carried out deliberately and with no military justification.
'The attacks were a collective punishment against the people of Gaza.'
Philip Luther, Amnesty's Middle East and North Africa Director
Attacks by both sides
The Israeli military started carrying out airstrikes on inhabited homes in the first days of Operation Protective Edge, suggesting that Israel's political leadership endorsed these actions.
Hamas and other Palestinian armed groups also fired thousands of indiscriminate rockets and mortars into civilian areas of Israel, killing six people including one child.
Both sides in this conflict have committed serious human rights violations, including unlawful killings and injuries to civilians, and destruction of civilian property.
No more impunity
We're calling on both parties to allow an independent and impartial investigation into these grave violations. The human toll of this conflict is horrific and those who have committed war crimes must be held accountable. Both have so far failed to adequately investigate allegations of war crimes.
Israel continues to deny us and other human rights organisations access to Gaza. It has also announced that it will not co-operate with the Commission of Inquiry established by the UN Human Rights Council.
We're continuing to investigate and document serious human rights violations in this conflict, including unlawful killings and injuries to civilians, and the destruction of civilian property by Israel, Hamas and other Palestinian armed groups.