Love is a Human Right – Croydon Pride 2017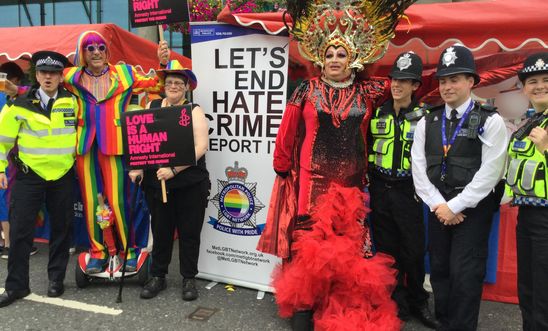 Croydon Pride Fest 2017 © Sarah Beer
On Saturday 15th July, the Croydon group hit the streets to join the local Pride parade. Every year, Croydon becomes a hub of activity for the Croydon Pride Fest and this year was no exception.
The Croydon Amnesty group held their own stall to show their support for LGBTI rights worldwide and rally public support for an ongoing Amnesty action: supporting LGBTI rights in Chechnya.
LGBTI rights in Chechnya
Amnesty recently revealed that the Chechen government had abducted over 100 men who were suspected of being gay. These men have been tortured and in some cases even killed purely for the government's "fear" of their sexual orientation – one which the State refuses to recognise.  
The case then developed further when, on 1st April 2017, staff at the Russian newspaper Novaya Gazeta wrote about these 100 men and were later left fearing for their own lives when Chechen officials warned that the journalists will "face retaliation" for reporting on these events. Such threats should not be taken lightly as journalists from the same paper have been murdered in the past decade, demonstrating the risk local reporters face when bringing human rights abuses to light.  
Take Action
At the Croydon Pride Fest, 250 action cards were signed in support of these 100 men who have been arrested purely on speculation/because of their sexual orientation. A great day's work team!
For those who haven't signed an action card, you can take action here:
Call on the Chechen government to stop abducting and torturing gay men
For more information on LGBTI issues, check out the Amnesty LGBTI rights page
View latest posts