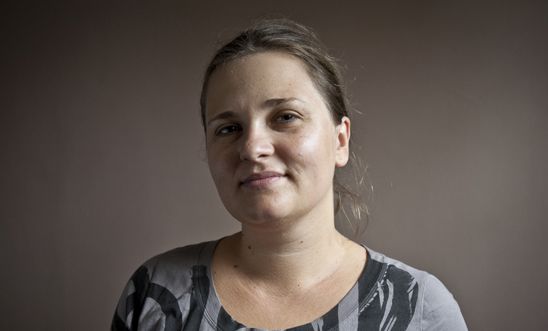 Elena Milachina, journalist Moscow-based newspaper Novaya Gazeta © Jorn van Eck / Amnesty International
Earlier this year, Novaya Gazeta exposed reports of shocking treatment of more than 100 men suspected of being gay in Chechnya - a Russian Republic in the North Caucasus.
Since then, the paper has voiced grave concern for the safety of its staff. The journalist who wrote about the abductions, Elena Milashina, has left the country as her colleagues feared for her life.
Over 23,000 of you signed our petition calling for the protection of these journalists. Thank you.
Elena does travel back to Russia for work, but is still living away in Europe due to personal safety concerns. We will continue to monitor the situation closely and stand up for the journalists and their right to freedom of expression as long as they are at risk. We will continue to demand the Russian authorities:
Investigate the threats to Novaya Gazeta and Ekho Moskvy staff, in accordance with the Russian Criminal Code regarding 'obstruction of lawful activities of journalists'
Publicly condemn all threats and violence towards journalists, and bring those responsible to account
Guarantee freedom of expression and protect journalists, in accordance with the European Convention on Human Rights.
Background
On 1 April, Novaya Gazeta reported that men suspected of being gay or bisexual had been rounded up en masse in a coordinated campaign. They were abducted, tortured and forced to identify LGBTI individuals known to them.
The reports made headlines around the world. We called for Chechen and Russian authorities to investigate and punish the perpetrators of the attacks, as have many other organisations, including the UN. Governments around the world echoed our calls, whereas Chechen authorities reacted with a mixture of denial and a call-to-arms against the journalists who exposed the story.
Two days later, 15,000 people – including Chechen elders, opinion leaders and Muslim theologians – gathered at a central mosque in Chechen capital Grozny.
Instead of rallying in anger at the reports that men were being abducted and tortured, speakers denounced the allegations and instead focused their outrage on the journalists who broke the story.
When independent Moscow radio station Ekho Moskvy came out in support of the threatened journalists, its staff were likewise threatened by the Mufti (Islamic scholar) of Chechnya.
56 journalists killed since 1992*
Celebrated Novaya Gazeta journalist Anna Politkovskaya was murdered in 2006 in what is believed to be a contract killing. Politkovskaya had been a vocal critic of President Vladimir Putin, and particularly of Russian operations in Chechnya. She was known for her reporting from the Second Chechen War, where she was subjected to a mock execution by Chechen forces. She received many death threats for her work and was shot dead in her apartment block in 2006.
Another contributor to Novaya Gazeta, human rights campaigner Natalya Estemirova, was murdered in 2009. Estemirova, a colleague and friend of Politkovskaya, reported from Chechnya on hidden abuses there. She was abducted on her way to work, bundled into a car and shot dead outside Grozny, three years after her colleague was murdered.
(* according to the Committee for the Protection of Journalists.)