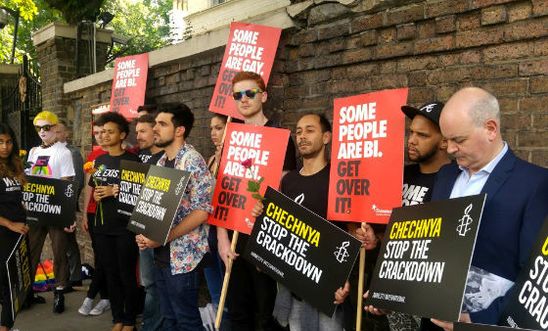 It is two months since reports surfaced in the independent Russian newspaper Novaya Gazeta that the Chechen authorities have been detaining, torturing and even killing gay men, as part of a deplorable campaign to purge the republic of people of "non-traditional orientation".
We have spoken to witnesses who described how men suspected of being gay are publicly humiliated when the authorities come for them — dragged away in front of their families and colleagues, putting them at risk of reprisals even if they are eventually released. 
The torments inflicted on gay men are designed to humiliate as well as physically harm them. Former detainees have described being forced by prison guards to assume female names, dance the country's national women's dance and wear electrodes attached to their earlobes, like earrings — all to ridicule them for not conforming to homophobic and misogynistic 'ideals' of masculinity. 
Other more shocking details which men told Amnesty International cannot be shared for fear of revealing their identities and compromising their safety.
We are aware of cases when individuals who have spoken out have disappeared, then resurfaced a few days later in YouTube videos in which they apologise to Kadyrov and the Chechen people. Men have been forced to appear without trousers in some of these videos.The Chechen authorities have been practicing demeaning their people for a long time.
 
Despite widespread international alarm at these reports, the Chechen and Russian authorities initially reacted with denials. A spokesman for the head of the Chechen Republic, Ramzan Kadyrov, denied that LGBTI people even exist in Chechnya, saying "nobody can detain or harass anyone who is simply not present in the republic". 
 
But last week we gathered outside the Russian embassy to let it be known that gay Chechens do exist. They are real, and they are in desperate need of our help. 
Scores of activists from Amnesty and Stonewall staged a defiant "We exist" protest outside the Russian Embassy in central London calling on the Russian authorities to fully investigate disturbing reports of a crackdown on LGBTI people in Chechnya.
It was part of an global day of action to highlight concerns on the issue and to also hand-in a 177,000-signature petition (now over a 180,000) to the Russian Embassy – part of a half million-strong global petition – along with a letter to the Russian ambassador to the UK, Alexander Yakovenko.
 
It was a fantastic show of defiance and solidarity supported by prominent members and supporters of the LGBTI community, including LGBT Poet Laureate Trudy Howson, and LGBTI-rights activist Peter Tatchell.
 
Leading the charge was Sir Ian Mckellan. Reading a message from the Russian LGBT network to the crowd, he said:
"Right now, we need you to demand justice, we need you to tell your governments to take action, we need you to accept refugees, we need you to call for a transparent and just investigation that is going to hold those responsible to account."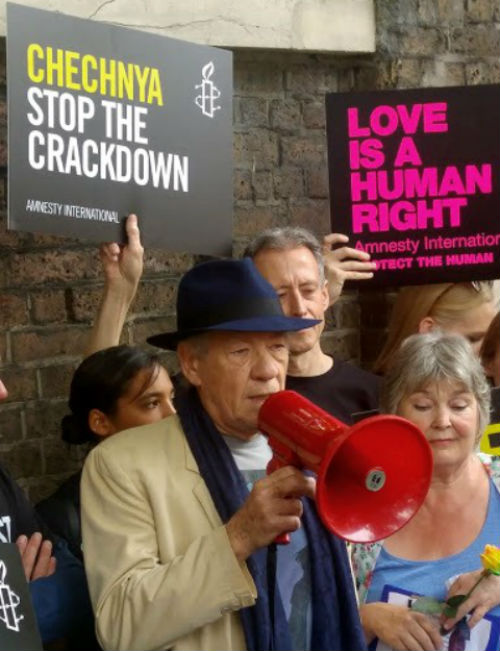 LGBTI activist Peter Tatchell spoke of Chechnya's long history of persecuting any group considered a threat to security and "traditional values". Human rights defenders, media workers and political activists alike routinely face threats, harassment and often physical violence in Chechnya – and the UK has utterly failed to call them out.
"Our government has failed the people of Chechnya for a long, long time," he said.
Finally, LGBT Poet Laureate Trudy Howson read aloud a stirring poem for Chechnya.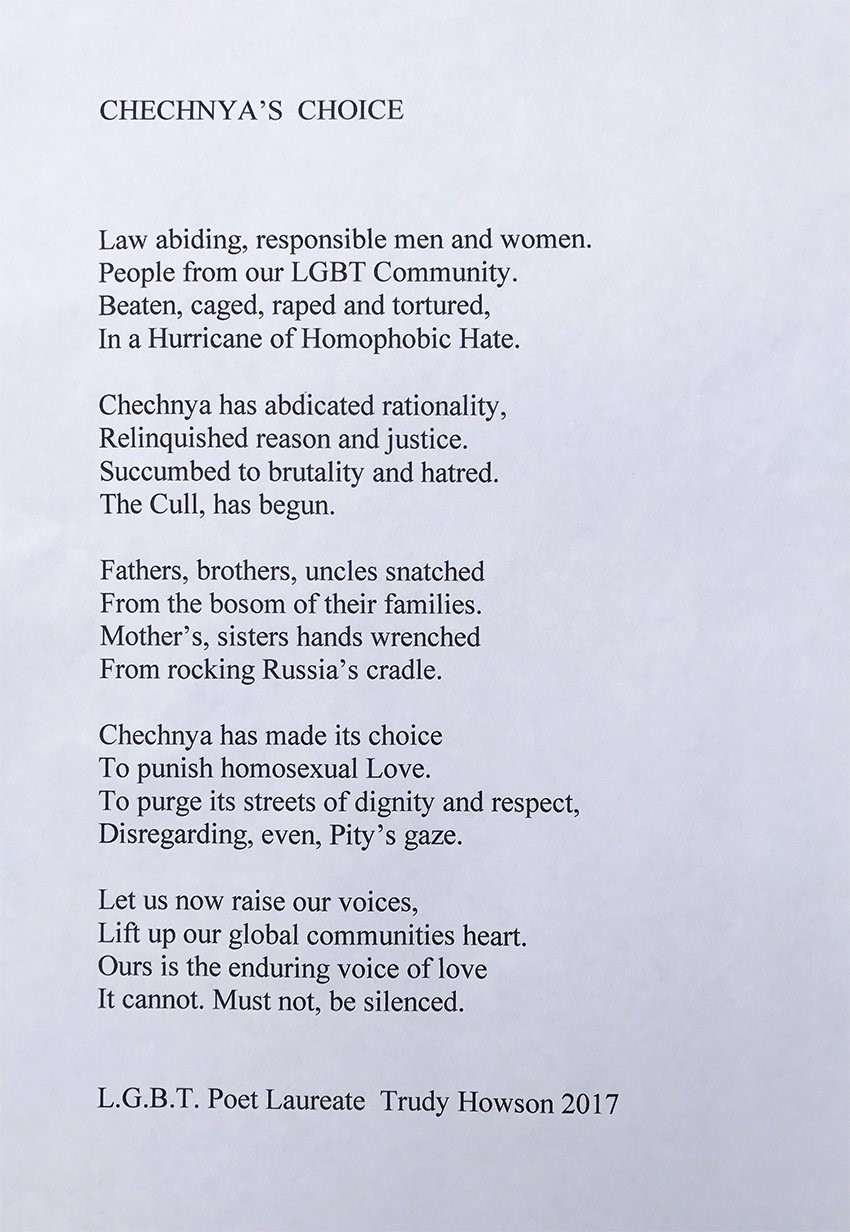 All those present made a final show of solidarity by laying down flowers outside the gates of the Russian embassy on a rainbow flag.
These feelings were not confined to those attending the demo. Messages of love, support and solidarity came flooding in via social channels in the form of images of flowers bearing the hashtag #Chechnya100 and #WeExist with locations set to Chechnya as a means of giving a voice to those forced to become invisible.
To #Chechnya100 and Chechnya's #LGBTI Community, We Love You and We're With You #WeExist @AmnestyUK pic.twitter.com/u8J0u2S77z

— Joanna Wren (@1999Wren) June 2, 2017
#chechnya100 A rose from my own garden called Peace. I hope you all find freedom and peace to live your own lives #WeExist pic.twitter.com/w3yTCTtME2

— Pat Bolton MBE (@bolton_mbe) June 2, 2017
If you too would like to express your solidarity online, share the below images on your social media channels with a message of support and use #Chechnya100.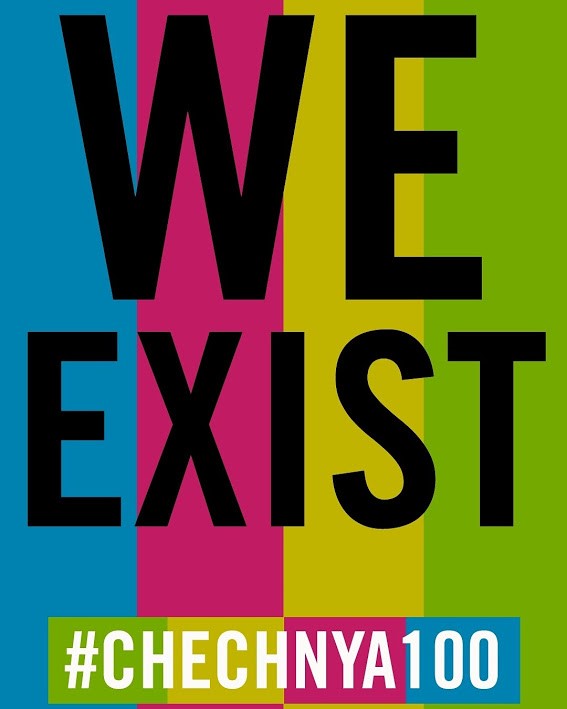 Reports say the Russian authorities have now opened a preliminary investigation into the case, but Amnesty is calling on them to proceed to a full-blown criminal investigation, and to take all necessary steps to ensure the safety of individuals who may be at risk in Chechnya.
It is also crucial that international government who have rightly spoken out in condemnation of these atrocities follow up by ensuring those Chechens who are seeking international protection are granted access to fair asylum procedures.
So far, we only know of a handful of individuals who have been granted asylum in safe countries. According to the Russian LGBT Network, there are about 40 individuals currently in hiding in Russia, desperately trying to flee the country.
Dmitry, who is seeking asylum in the UK having fled Russia for fear of his safety said:
"It makes me scared because there's a possibility I'll be sent back".
So it is imperative that international governments open their doors to gay men fleeing Chechnya. It is vital that the governments who have rightly spoken out in condemnation of these atrocities follow up by ensuring those Chechens who are seeking international protection are granted access to fair asylum procedures.
Ultimately, LGBTI Chechens deserve the right to live freely in their own country. International pressure has to be maintained until the Chechen and Russian authorities release all those they have unjustly detained simply for being who they are. They must acknowledge this purge and other crimes against the population and take meaningful steps to bring those who are found responsible to justice.
Please sign the petition if you haven't and share it with others to sign.
About Amnesty UK Blogs
Our blogs are written by Amnesty International staff, volunteers and other interested individuals, to encourage debate around human rights issues. They do not necessarily represent the views of Amnesty International.
View latest posts