Theresa May's cabinet reshuffle is another political merry-go-round – but what does it mean for human rights?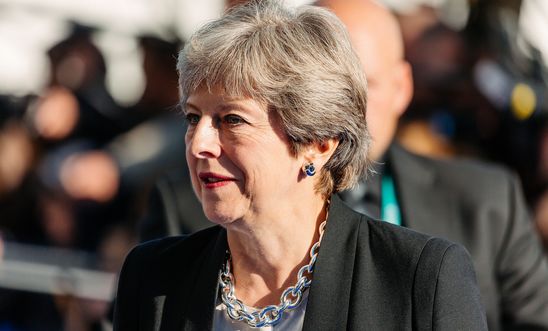 Theresa May © EU2017EE Estonian Presidency, Creative Commons License
Written by Karla McLaren, Government and Political Relations Manager at Amnesty International UK
Just in case Theresa May hasn't had enough going on this week, Donald Trump has added his two-pence worth on the UK Cabinet resignations to point out – with his characteristic tact and aplomb – that the UK is in "turmoil" and he's always rather liked Boris Johnson.
That could be seen as slightly embarrassing for the Prime Minister, but as there is likely to be a giant blimp in the form of an angry baby Donald Trump flying over London on the day of his visit, along with huge numbers due to be attending marches to protest his human rights record, you could say the embarrassment goes both ways.
Whether President Trump likes Johnson or not, the UK now has a new Foreign Secretary, and it will be Jeremy Hunt who meets the President during his visit. As first weeks in a new job go, this is a pretty big one.
Trump's human rights record
But first week or not, Jeremy Hunt must ensure human rights are raised with the President during the visit. 
In only 18 months, Mr Trump has presided over a nightmarish human rights roll-back – from locking up child migrants and withdrawing from global human rights bodies, to imposing a discriminatory travel ban and decimating global funding for women.
Nazanin Zaghari-Ratcliffe
This will be the Foreign Secretary's first opportunity to demonstrate commitment to human rights in his new role, but we hope to see it continue. It's encouraging that he has previously expressed interest in various human rights issues, including in Palestine, the humanitarian situation in Yemen and the detention of Nazanin Zaghari-Ratcliffe.
We particularly welcome his interest in Nazanin's case, because it is essential efforts to secure her release continue as a priority under his leadership. She has now been in prison and separated from her daughter and husband for more than two years on false charges.
Protecting human rights defenders
We are also calling for the Foreign Secretary to put the protection of human rights defenders, who are experiencing unprecedented repression and abuse worldwide, at the top of his agenda. This is an opportunity for him to show people all over the world the UK supports their human rights work.  
For example women like Loujain al-Hathloul in Saudi Arabia, who has been detained incommunicado since May due to her opposition to the Kingdom's driving ban for women, despite – beyond ironically – the ban having now been lifted, surely as a result of the campaigning she and others (many of whom have also been detained) have done.
And Azza Soliman in Egypt, who speaks out for victims of torture, arbitrary detention, domestic abuse, and rape, but as a result has been arrested, had her assets frozen and been banned from travelling.
And Amnesty's own Taner Kilic, Honorary Chair of Amnesty International Turkey, who has been in prison for more than a year under trumped up charges with no evidence, we believe solely because of his human rights work.
The list could go on and on. And while the Foreign Office does do some excellent work to support human rights defenders, meaningful actions across the Embassy network and at the highest levels of government are inconsistent.
For defenders like Loujain and Azza, some good work some of the time just isn't enough.
We need the UK to recognise it as a priority and a cross-cutting theme across its human rights work which is Minister-led, measurable, well-funded and focuses on those most at risk, including women and LGBTQ activists. We hope Jeremy will agree with us.
and in the UK...
The other big change in government is, of course, a new Brexit Secretary, Dominic Raab, who is no stranger to human rights in Parliament. Unfortunately, he has been a critic of the Human Rights Act, believing it doesn't strike the right balance – and he was heavily involved in the failed Bill of Rights idea.
More recently on Brexit and rights, he has said some encouraging things in Parliament, for example that the EU (withdrawal) Act would "reinforce our UK human rights framework, not diminish it…this country has a long-standing tradition of liberty and rights, and we intend to build on that".
I'm afraid we don't agree with him entirely, as that Bill diminished rights, including removing the EU Charter of Fundamental rights in the process.
However, the opportunity to be a force for good on human rights is now in front of him – throughout the process of leaving the EU there should be no roll back on rights in the thousands of pieces of EU law that the government are tweaking and bringing in to UK law.
And he must make sure the UK is in the room with EU partners when it comes to important multilateral action – like on implementing sanctions – that help put pressure on states committing human rights abuses.
So while the political merry-go-round has given us two new Secretaries of State, neither of them are new to human rights. Now we just have to make sure they make the most of them.
About Amnesty UK Blogs
Our blogs are written by Amnesty International staff, volunteers and other interested individuals, to encourage debate around human rights issues. They do not necessarily represent the views of Amnesty International.
View latest posts