UK could soon have prisoners of conscience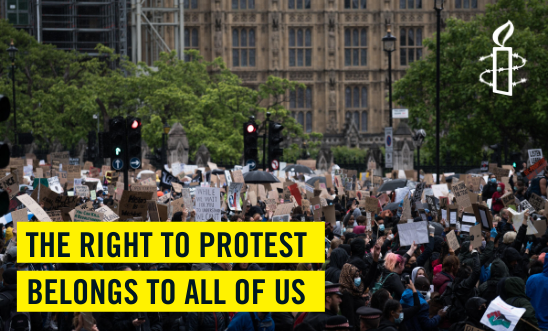 UK could soon have prisoners of conscience
Blog by Tim Gee - Human Rights in the UK Campaign Manager
It's nearly two decades now since I walked in to my first Amnesty meeting, to write letters to prisoners of conscience around the world. Through doing so, I learnt about places where governments put individuals behind bars simply for exercising their right to speak out.
At that time, I believed that Britain wasn't a place where things like that could happen, protected by our tradition of liberty. Amnesty International too focussed almost exclusively on abuses of people's freedom overseas, with much less scrutiny of the treatment of people in the UK. Now though, things are changing.
There is still something in the idea of Britain as a 'land of liberty'. When compared to regimes where human rights abuses are rife, imprisonment of nonviolent protesters remains relatively unusual here. The Human Rights Act guards against the most extreme abuses, and it helps bring accountability when abuses do happen.
Yet this sits uncomfortably alongside another truth: almost every great movement in Britain's 800-year story of rights and liberties has had people unjustly arrested, jailed or worse, simply for striving for freedom. And while the 1998 passing of the Human Rights Act was a high point, since around 2001 though there has been a steady decline in respect for rights from successive governments across the political spectrum. And now things are looking to get sharply worse.
The UK Parliament is currently debating the Policing Bill (its critics are calling it the Police Crackdown Bill), within which is proposed an enormous and unprecedented extension of policing powers which would give both police and Government ministers the powers to ban, limit or impose undue restrictions on peaceful protests, on the grounds that they might be 'noisy or cause annoyance' or simply because they are within sight and sound of the Westminster Parliament.
The Bill also proposes a foreboding offence of causing a "public nuisance", with a severe sentence of up to 10 years for actions which, as currently written, could include such ordinary aspects of protest as non-violently obstructing things or causing "serious annoyance or inconvenience".
To make matters worse, the Human Rights Act, which explicitly protects the rights to freedom of expression and peaceful assembly in the UK is under review.
We cannot carry on like this. If we do, the likely result will be many more human rights activists being imprisoned solely for their peaceful exercise of their human rights – in other words, becoming prisoners of conscience.
There have been plenty of warning signs. In 2018, anti-fracking protestors were jailed and given sentences that, on appeal, the judge deemed they were "manifestly excessive". Then there was the peaceful Stansted 15 who were wrongfully charged and convicted with a terrorism related offence following a nonviolent direct action, again overturned on appeal. In 2019 the Metropolitan Police broke the law by banning environmental protests across London. A short while later anti-terrorism police came in for criticism for having labelled schoolchildren peacefully protesting about climate change as 'extremist'. In 2020 potentially conditions were used to try and prevent peaceful assemblies gatherings in the UK, including protests for racial justice and the vigil for Sarah Everard
But now it seems that rather than respecting peaceful protests and the rule of law, the government is doing the opposite  – suppressing movements for change and changing the law to suit those purposes.
If they succeed in passing Policing Bill it will reduce the freedom of us all. We must do all we can to protect our ability to protest peacefully and express our opinions collectively. We must prevent the UK government's raid on our rights.
Get involved
From 10-17 October 2021, Amnesty UK, Liberty, the British Institute for Human Rights and others are holding a Week of Action for Human Rights in the UK. The plan is to meet with as many MPs as possible at constituency level, to show how much we care about human rights and to ask our representatives to defend them.
To find out more, and make your voice heard, visit https://www.amnesty.org.uk/stop-rights-raid-week-action
About Amnesty UK Blogs
Our blogs are written by Amnesty International staff, volunteers and other interested individuals, to encourage debate around human rights issues. They do not necessarily represent the views of Amnesty International.
View latest posts