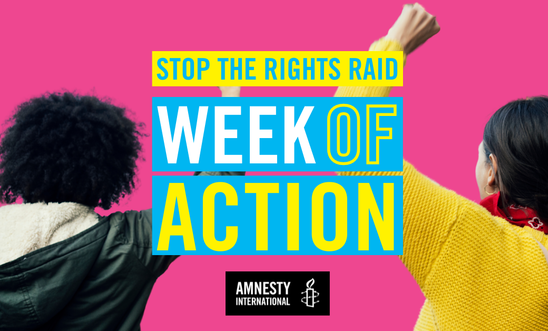 Stop the Rights Raid - Week of Action (10-17 October 2021)
Week of Action: October 2021
From 10-17 October 2021, Amnesty UK, Liberty, Stonewall, Freedom from Torture, the British Institute for Human Rights, Equally Ours, The End Violence Against Women Coalition, the Quakers and The Humanists are holding a Week of Action for Human Rights in the UK.
This is in the context of major pieces of proposed legislation that threaten to undermine fundamental Human Rights including: the Policing Bill and Nationality and Borders Bill. To make matters worse the Human Rights Act itself is under review.  
What is the plan?
We need to come together to tell our MPs: The raid on rights has to stop. The plan is to meet with as many MPs as possible at constituency level, to show how much we care about human rights and to ask our representatives to defend them.
How can I get involved?
To get involved, email us at weekofaction@amnesty.org.uk telling us you want to be involved and who your MP is. We can help link you up with others in your area, provide template text for contacting your MP as well as a full briefing closer to the time. Not sure who your MP is? Enter your postcode at https://members.parliament.uk/FindYourMP
Whether you're regularly in touch with your local MP or you've never contacted them before, this week is for all of us. If you have any questions you can email us direct, and we'll do our very best to support: weekofaction@amnesty.org.uk