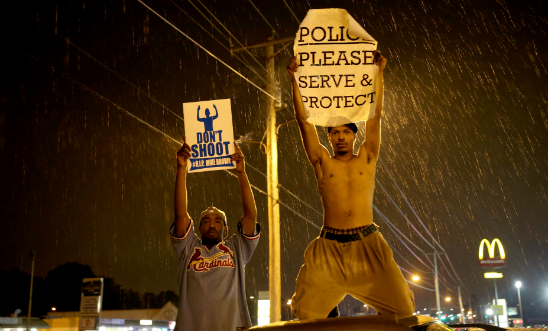 Protests in Missouri after fatal shooting of Michael Brown were one of the defining moments of 2014. © Joe Raedle/Getty
At the end of January 2014, Dimitri Bulatov's bloody and battered body was thrown from a car into the freezing temperatures of a forest just outside of Kiev. He had been missing for days.
Bulatov was one of the main organisers of anti-government protests in Ukraine. And he was not the first of the protestors to be brutally tortured. He survived his ordeal, living to report how he'd been crucified by his captors. Images of his bloodied face covered newspaper front pages around Europe and became a symbol of the growing crisis in the country.
His was one of the first of many stories we would report across the year, of individuals punished for their peaceful acts of protest or imprisoned for their beliefs. 
And it didn't end there. 
The highs and lows of human rights in 2014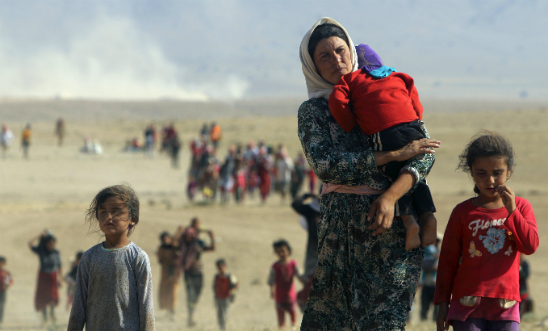 Thousands of civilians killed as a result of war crimes. Refugees abandoned by authorities and left to die. 82% of countries using torture. Girls disappeared, forced into a life of forced marriage and sexual slavery. Free speech violently restricted. Same sex relationships criminalised. Women jailed after having miscarriages. The list goes on. There's no avoiding it: 2014 was not a great year for human rights.
Released today, our Annual Report details it all. It makes for some grim reading. But it also shows that remarkable change is possible.
We show the many unjustly imprisoned men and women that have been freed, and how five new countries joined the existing 112 to call for an end to the death penalty. We celebrate some increased rights for LGBTI people, as India legally recognised transgender people, and reflect on the moment that – after decades of campaigning –the world's first Arms Trade Treaty came into force to regulate and make transparent the deadly weapons trade.
The list goes on. All of it documented in our flagship report: State of the World's human rights 2014/2015.
Get the full picture: Read the report
The UN Security Council veto
In Syria, Iraq, Gaza, Israel and Ukraine, the UN Security Council has failed to deal with crises and conflict. Even in situations where horrific crimes are being committed against civilians by states or by armed groups, they base their actions on vested interests or political expediency.
We're calling for the five permanent UNSC members to renounce their veto rights in cases of genocide and other mass atrocities and stop blocking action where it is most needed.
Looking ahead. 2015 and beyond
Since we went to print, an astonishing array of human rights abuses have hit the headlines. From two armed gunmen opening fire in the Paris headquarters of Charlie Hebdo magazine, to Saudi Arabian blogger Raif Badawi being flogged and Boko Haram intensifying their attacks in north east Nigeria. This list, too, goes on. But it must not make us feel hopeless.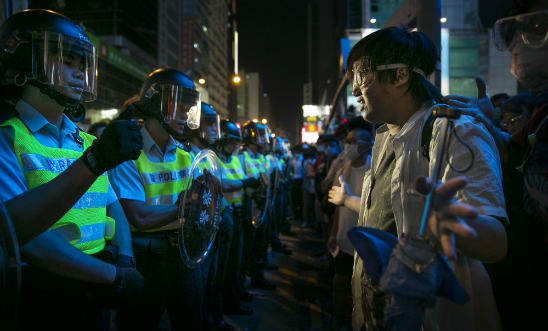 One of many powerful images from the year was thousands of protestors in Hong Kong standing up to violent crackdowns, in what became known as the Umbrella Movement. We must stand with these protestors and many others around the world, continuing their peaceful fight for justice and rights, even in the face of seemingly insurmountable barriers. As our Secretary General Salil Shetty says in his foreward to our report:
We must hope that, looking backward to 2014 in the years to come, what we lived through in 2014 will be seen as a nadir from which we rose up and created a better future
Downloads