Amnesty International Global Report: Call for UN Security Council to relinquish veto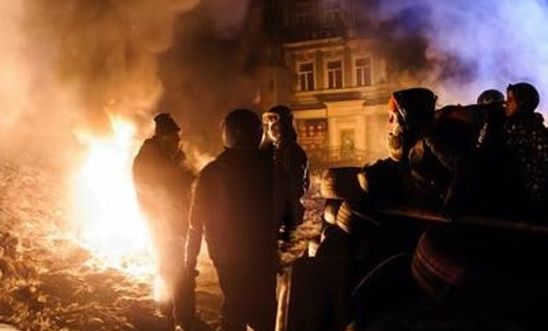 Protests in Ukraine - June 2014 © Alexandr Piliugun
'Shameful and ineffective' global response to abuses by armed groups and states
Call for renouncement of veto rights by five permanent members of UN Security Council in situations of mass atrocities
UK criticised for "going in wrong direction on rights, protection and fairness"
World leaders must act urgently to confront the changing nature of conflict and protect civilians from horrific violence by states and armed groups, urged Amnesty International as it published its flagship report 'State of the world's human rights 2014 / 2015' today (Weds 25 February).  
Amnesty International's Secretary General Salil Shetty said:
"2014 was a catastrophic year for millions caught up in violence. The global response to conflict and abuses by states and armed groups has been shameful and ineffective. As people suffered an escalation in barbarous attacks and repression, the international community has been found wanting.  

"The United Nations was established 70 years ago to ensure that we would never again see the horrors witnessed in the Second World War. We are now seeing violence on a mass scale and an enormous refugee crisis caused by that violence. There has been a singular failure to find workable solutions to the most pressing needs of our time.

"The global outlook on the state of human rights is bleak, but there are solutions. World leaders must take immediate and decisive action to avert an impending global crisis and take us one step closer to a safer world in which rights and freedoms are protected."
UN Security Council veto
In Syria, Iraq, Gaza, Israel and Ukraine, the UN Security Council (UNSC) has failed to deal with crises and conflict, even in situations where horrific crimes are being committed against civilians by states or by armed groups, based on vested interests or political expediency.
Amnesty also called for the five permanent UNSC members to renounce their veto rights in cases of genocide and other mass atrocities.
Salil Shetty added:
"This could be a game changer for the international community and the tools it has at its disposal to help protect civilians.  By renouncing their veto rights, the five permanent members of the Security Council would give the UN more scope to take action to protect civilians when lives are at grave risk and send a powerful signal to perpetrators that the world will not sit idly by while mass atrocities take place."
Abuses in the UK
Amnesty International also found that the UK has seen a worrying assault on civil liberties, with reduced access to justice and ever more invasive surveillance in the last 12 months.
Amnesty International UK Director Kate Allen said:
"The UK is going in the wrong direction on rights, protections and fairness. Public safety is paramount, but not at the cost of basic civil liberties.  

"Twice this year GCHQ spies have been rumbled breaking the law. Just last week, the government was forced to concede its regime for intercepting lawyer-client communications was illegal.  We should all be concerned about waking up in a surveillance state, without having a proper public debate about it first.

"The UK talks the talk on the global stage on human rights but this year's summary shows they need to tend to their own garden."
The UK report entry catalogues the human rights developments over the last year. It notes that the UK government has rushed through legislation without adequate time for parliamentary debate, including anti-terror measures and new ever more invasive surveillance powers.
In two cases involving Amnesty being heard at the Investigatory Powers Tribunal, a court which investigates complaints against the Intelligence services relating to surveillance, it was revealed that the intelligence services had been operating unlawfully. Most recently the government agency was forced to concede their regime for intercepting lawyer-client communication was illegal.
The UK entry also notes the continued failure to institute a judge-led public Detainee Inquiry into the UK's role in torture and rendition.
The report notes that Prime Minister David Cameron has confirmed that a Conservative Party government would repeal the Human Rights Act if elected in May, and replace it with a British Bill of Rights, with a view to limiting the influence of the European Court of Human Rights. The annual report warns that those draft proposals threaten significant restrictions on rights.
Charities and campaign organisations have warned that the introduction into law of the Lobbying bill reduces their ability to speak freely. The report also states that cuts to legal aid made in recent years, combined with restrictions to judicial review, have significantly reduced access to justice in the UK.
The report notes that the UK has offered resettlement places to 500 of the most vulnerable Syrian refugees fleeing the conflict, but that so far only 90 have been resettled in the UK to date.