Boko Haram Baga attacks: satellite images reveal destruction
Satellite image of Baga, north-east Nigeria, on 7 January 2015 - showing recently destroyed buildings © Amnesty International
New satellite images reveal for the first time the extent of the destruction caused by Boko Haram following the militant group's attack on two neighbouring towns in the Borno state of North-East Nigeria in early January.
'Of all Boko Haram assaults analysed by Amnesty International, this is the largest and most destructive yet. It represents a deliberate attack on civilians whose homes, clinics and schools are now burnt out ruins.'
Daniel Eyre, Amnesty Nigeria researcher
The attacks on the towns of Baga and Doron Baga began on 3 January 2015 but were only reported last week, as survivors who'd fled to neighbouring towns described the terror and destruction they had witnessed.
These images are evidence that testimonies emerging from survivors of the attacks on the remote towns are true: the January attack on Baga and Doron Baga marks the deadliest attack on civilians by Boko Haram to date.
Satellite images verify Boko Haram's deadliest act
We commissioned satellite data of Baga and Doron Baga on 2 January, the day before the attacks, and 7 January, after the attack had taken place. The collateral damage is clear: we can clearly see that over 3,700 buildings in both town were damaged or completely destroyed between 2 and 7 January.
In Doron Baga, more than 3,100 buildings were damaged or destroyed by a fire that affected most of the town, which is 4 square kilometres in size. At least 620 buildings were destroyed by fire in Baga, 2.5 kilometres from neighbouring Doron Baga. 
The human cost of the attack remains unknown.
Why we use satellite data to verify reports of the attacks
Until now, the attacks on Baga and Doron Baga were difficult to verify, and the scale unknown: the region is isolated and largely controlled by Boko Haram. Phone lines have been cut in previous attacks by both Boko Haram, and disabled by government authorities.
Eyewitness descriptions we heard last week alluded to what could be Boko Haram's deadliest act yet, the latest massacre in a catalogue of merciless attacks on civilians by the group. Yet the true scale of the destruction of the two towns was unverified and impossible to gauge from testimony alone.
'I don't know how many, but there were bodies everywhere we looked'.
Survivor of Baga attack
Our data, showing two towns badly damaged by fire, with Doron Baga almost razed to the ground in five of days, corresponds with what eyewitnesses have told us - that fires destroyed their homes and the death toll alongside the destruction was on a scale not witnessed before.
'Residents have not been able to return to bury the dead, let alone count their number. But through these satellite images combined with graphic testimonies, a picture of what is likely to be Boko Haram's deadliest attack is becoming ever clearer.'
Daniel Eyre, Amnesty Nigeria researcher
The reported exodus of residents of the two towns by boat is confirmed in our images that show wooden fishing boats along the shorelines (both towns lie on the edge of Lake Chad) on 2 January, absent by 7 January - corresponding with witnesses who told us that desperate residents fled by boat across Lake Chad.
The UN refugee agency has confirmed that over 7,000 Nigerian refugees arrived in western Chad on 9 January. 5,000 residents who fled the attack on Baga are currently staying in a Medecins Sans Frontieres refugee camp in Maiduguri, the capital city of Borno state, 160km from Baga.
Evidence of two towns destroyed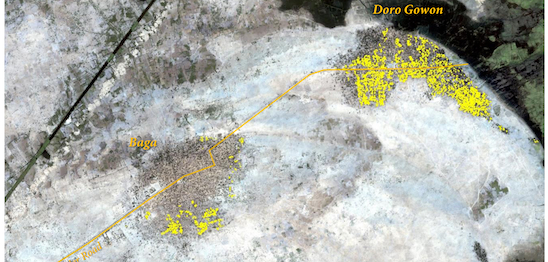 This satellite image shows the neighbouring towns of Baga and Doron Baga (named here as Doro Gowon) on 7 January 2015. The yellow indicates destroyed buildings following the Boko Haram attack.
Doron Baga effectively razed to the ground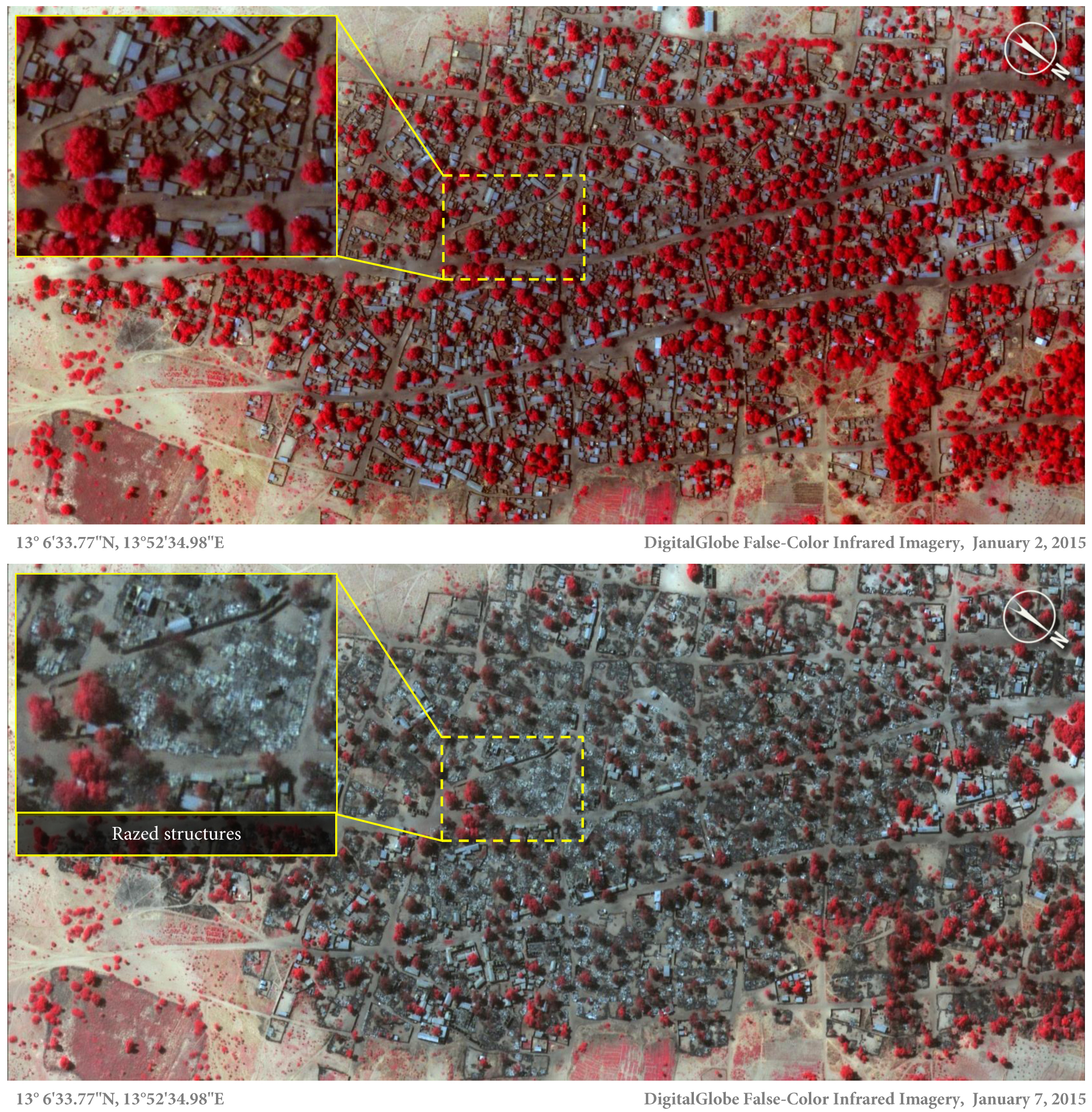 The image from 2 January (top) shows buildings in Doron Baga that are completely destroyed in the image from 7 January. Our satellite images show at least 3,100 buildings in the town were destroyed or damaged by fire during the five days.
Baga: 600+ buildings burned down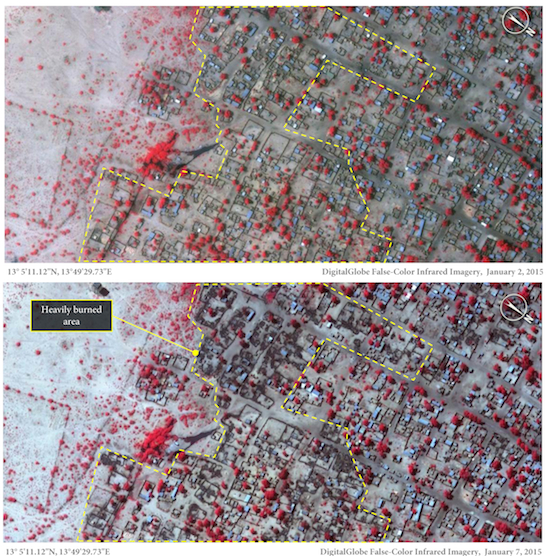 A whole neighbourhood has been burnt down in Baga between 2 and 7 January, as the satellite images above demonstrate.
Exodus of residents by boat across Lake Chad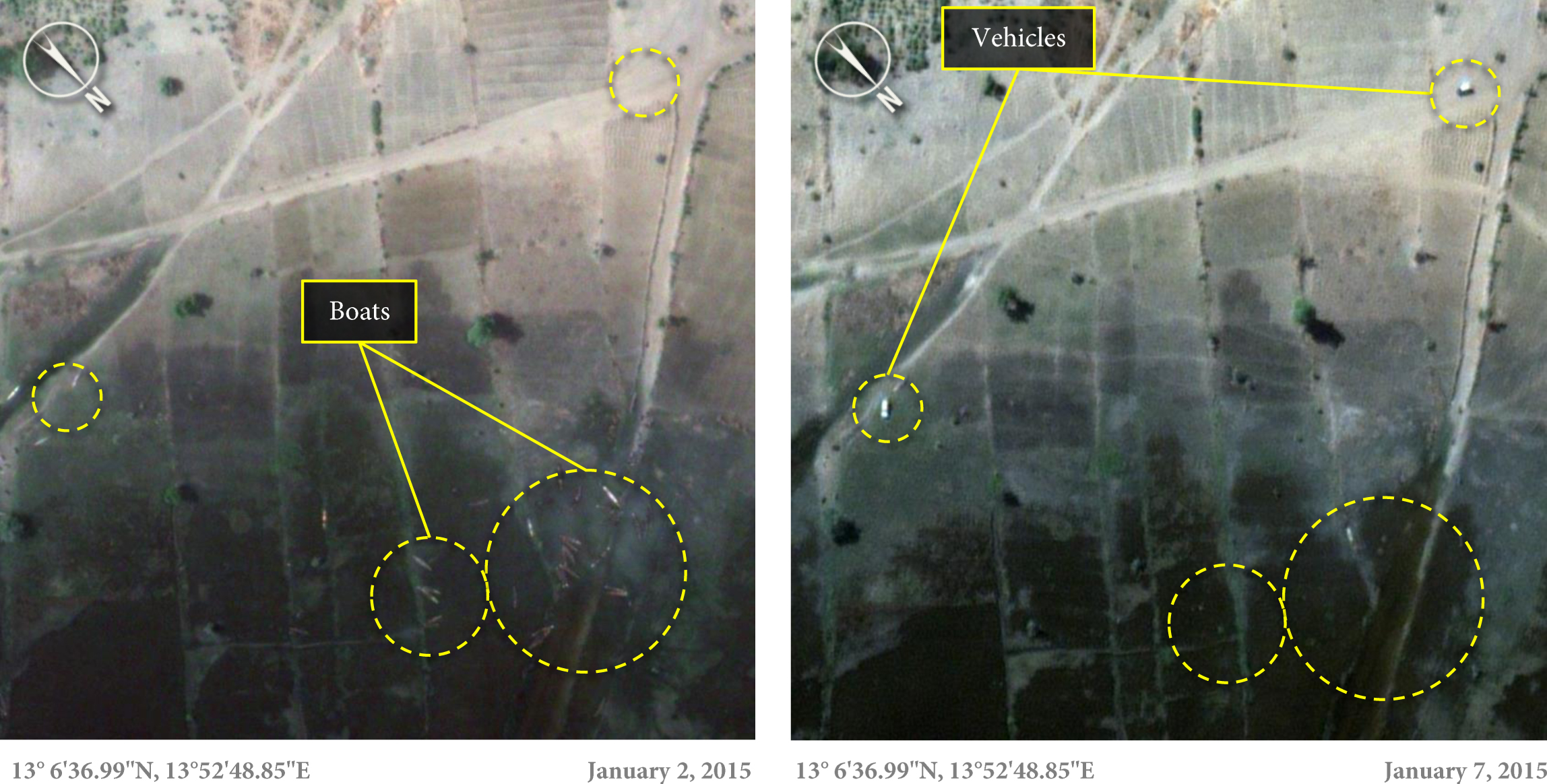 Doron Baga lies on the eastern shore of Lake Chad. The image on the left, taken on 2 January, shows wooden boats on the lake's shoreline. By 7 January, all of the boats had disappeared, as the image on the right shows. This corresponds with witnesses' claims that residents fled en masse by boat across Lake Chad. Over 7,000 Nigerian refugees arrived in western Chad on 9 January, according to the UN refugee agency.