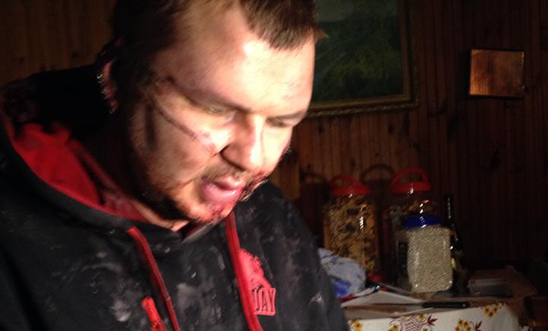 Ukraine activist Dmitrii Bulatov was abducted and tortured for his part in the anti-government protests © Olha Koshelenko
Prominent anti-government protestor Dmitrii Bulatov went missing in Kiev on the evening of 22 January. We had already received reports of other protestors being detained by police, tortured and even killed and we were very worried for Dmitrii's safety.
We asked you to join our call and demand an investigation into his disappearence. But now he has been found. On the evening of 30 January he was thrown from a car and left to die in freezing temperatures in a forest on the outskirts of Kiev.
Soaked in blood, his clothes stained and covered in cuts and bruises, he spoke of his ordeal, saying:
'I was crucified. My hands were pierced. They cut my ear. They cut my face. There is no spot on my body that is not injured. You can see yourself. But I am alive, thank God.'
Seeking treatment abroad
On Sunday evening, we heard that Dmitrii was on his way to Lithuania with Piotr Poroshenko (a prominent Ukrainian businessman and independent Member of Parliament). The day before, Dmitrii had been granted permission to seek medical treatment abroad, with a spokesman telling the BBC Ukrainian Service:
'On the request of the General Prosecutor's Office the Shevchenkovskiy Court gave permission for Bulatov to travel abroad. There were no reasons why he should not travel abroad taking into consideration his request, the request of his family, parliamentary delegates and foreign organisations.'
It is clear that international appeals from people like you, played an important role in ensuring Dmitrii was able to get treatment for the severe injuries he received at the hands of, as yet unknown, assailants.
Background
Dmitrii hadn't been seen since the evening of 22 January when he went missing in Kiev. His family hadn't heard from him and believed that he had been abducted. 
As one of the leading protestors against the government in Ukraine, Dmitrii Bulatov is well known to the authorities. Since November last year, he has been one of the main organisers and participants of the Automaydan rallies where convoys of cars support the demonstrations in Kiev.
Dmitrii had been active all day on the day he went missing, organising protest actions and attending meetings.
Hours after his disappearance in the early hours of 23 January the Ukrainian riot police swooped in on a convoy of cars of protestors. They smashed cars and took protestors away to an unknown location.
While we now know the whereabouts of most of those detained in this raid, the Ministry of Internal Affairs have claimed that they were not detaining Dmitrii. His car also went missing.
Protests in Ukraine
We are very concerned about the current human rights situation in Ukraine and we are actively documenting cases of torture and ill-treatment as well as the indiscriminate and abusive use of force by the authorities.
 
Since November 2013, thousands of people have taken to the streets in protest at government's decision not to sign an agreement that would have given Ukraine stronger trade and political ties with the EU.
 
On 26 January, the overwhelmingly peaceful demonstrations in Kiev turned violent after the government rushed through a series of new laws criminalising protests and severely limiting freedom of assembly, association and expression. On 28 January Ukraine's parliament scrapped the new law and the Prime Minister and his cabinet resigned.
Protestor deaths
So far five protestors linked to the demonstrations have been killed. We have also heard reports of a number of instances of police detaining protestors without informing their families, including allegations from protestors that they were abducted, beaten and driven to forests and left there by unknown men; one activist was certain they were police officers.
 
On 22 January, another protestor, Yury Verbytsky was found dead in a forest outside of Kiev. Reportedly his ribs were broken and there were traces of duct tape round his head. He and a well-known journalist and activist, Igor Lutsenko, had been abducted by unidentified men on 21 January when they sought medical treatment in a local hospital.