Urgent Action Update: Over 130 people remain in detention in Nicaragua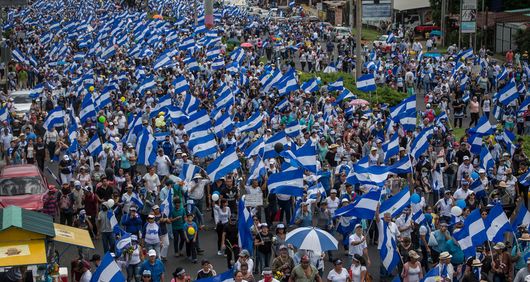 March of the flowers, in memory of those killed during the protests against the Ortega government. © Oscar Navarrete/Amnesty International
A year and a half since the beginning of the crisis in Nicaragua, at least 130 people continue to be detained. Among them is Maria Guadalupe Ruiz Briceño, 22; a student who was imprisoned after participating in a protest in July 2019.
We urge the Nicaraguan authorities to immediately release and drop all charges against those detained solely for exercising the right to freedom of expression and peaceful assembly.
PLEASE TAKE ACTION before 29 November 2019.
Please write using your own words or the template letter provided in the attached documents, in English or Spanish, to the listed address as soon as possible: 
Daniel Ortega Saavedra, President of Nicaragua
c/o Minister for Foreign Affairs
Del cine González 1 c. al Sur,
sobre Avenida Bolivar,
Managua, Nicaragua
Twitter: @DenisCanciller
Please check with the Amnesty office in your country if you wish to send appeals after the deadline.
Downloads