Solidarity action: Rainbow Halo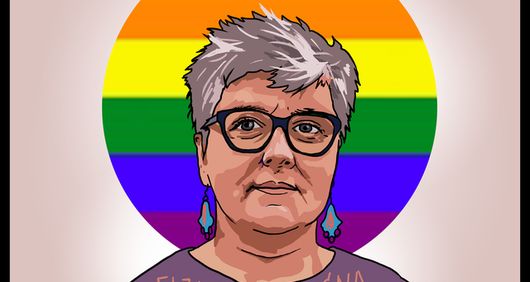 © Marta Frej
On 6 May at around 6am the police raided the home of prominent human rights defender Elżbieta Podleśna, arrested her and kept her in detention for several hours. The police claimed to have found in her home copies of posters depicting the Virgin Mary with a halo around head and shoulders in the colours of the LGBTI flag. After almost a year under investigation, Ela is charged with 'offending religious beliefs'. 
The display of a poster with religious symbols decorated with the colours of the LGBTQ flag falls under the protection of the right of freedom of expression. For this reason, authorities should drop these absurd charges against Elżbieta.
During this pride season, please join us in showing solidarity to Elżbieta Podleśna who is being targeted for her human rights activism.
 
Show solidarity to Elżbieta
We're asking our supporters to take action together until Friday 31st July.
 
Make your own Rainbow Halo
1)      Download the Rainbow Halo template below and make your own rainbow halo.
2)      Take a selfie wearing the halo.
3)      Share your photo on social media with the following or similar message: 
I'm wearing a #rainbowhalo for activist #ElżbietaPodleśna. Polish authorities are going too far to silence peaceful activism. We will not stay silent. We stand with Elżbieta. #TeczaNieObraza #dropabsurdcharges CC @AmnestyUK @amnestyPL
If you don't have a printer at home, you can make your own version
1)      You can draw your own halo, using our template below.
2)      You can get creative and create your own halo with things you have in the house: clothes, books, flowers.
3)      You can knit a rainbow halo.
4)      You can stick the rainbow halo on a stick and use it during Pride celebrations.
 
If you don't use social media, please send your picture to iar@amnesty.org.uk for our team to share it.
Want to do more during Pride season? 
Don't miss pride. Meet us inside. Join Pride Inside.
Take the Pride Inside Challenge
Shop our Pride collection
Join our Rainbow Network