Myanmar: New convictions for "Peacock Generation" members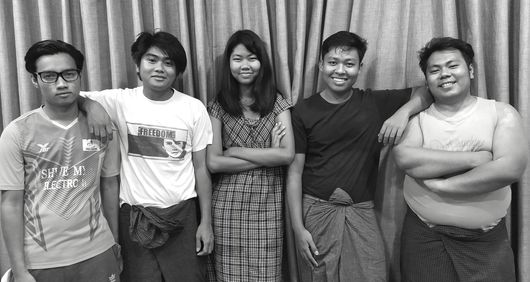 Four members of the Peacock Generation, a satirical poetry troupe in Myanmar, have been given additional jail terms after being found guilty of "online defamation". The four are among a group of seven Peacock Generation members charged under well-known repressive laws after they staged peaceful performances criticising the military. Six are currently in prison, now serving sentences of between one and a half and two and a half years. They are prisoners of conscience who should be immediately and unconditionally released.
Background: 
Seven members of the Peacock Generation  were arrested in April and May 2019 after performing Thangyat, a traditional performance art similar to slam poetry. They wore military uniforms and criticised the military.
On 30 October November 2019, five members of the group were each been sentenced to one year in prison for a satirical poetry performance in Yangon, Myanmar's main city. They were sentenced under a law that bans the circulation of statements with the intent to cause officers or soldiers in the Myanmar Armed Forces to mutiny or disregard their duties. On 18 November, Yangon's Botahtaung Township Court sentenced six of them to one year in prison. One member was acquitted of the charges and released.
In the latest convictions, four members of the group were found guilty of "online defamation" and sentenced to six months in prison. They faced these charges for posting photos and videos online, as well as livestreaming their performances on Facebook. All seven members of the group face a further charge of "online defamation", which carries a maximum two-year prison sentence. 
Thangyat is a century-old Myanmar traditional art form fusing poetry, comedy, and music, and is usually performed during Myanmar's New Year Water Festival in April and during other festive occasions. Public performances of Thangyat were banned in 1989 by the military and were allowed again in 2013. In March 2019, ahead of this year's Water Festival celebrations, authorities in Yangon required Thangyat lyrics to be submitted to a government panel for approval.
The Myanmar authorities continue to arrest and imprison activists and human rights defenders simply for peacefully exercising their right to freedom of expression. Amnesty International is concerned about a number of laws in Myanmar that arbitrarily restrict the right to freedom of expression.
PLEASE TAKE ACTION until 29 January 2020
Please write using your own words or the template letter provided in the attached documents, in Russian, English or your own language, to the listed address as soon as possible: 
President U Win Myint
President's Office, Office No. 18 Nay Pyi Taw
Republic of the Union of Myanmar
Fax: +95 1 652 624
For regular updates of the Peacock Generation, please follow their page.
Downloads