Jailed satire performers face additional charges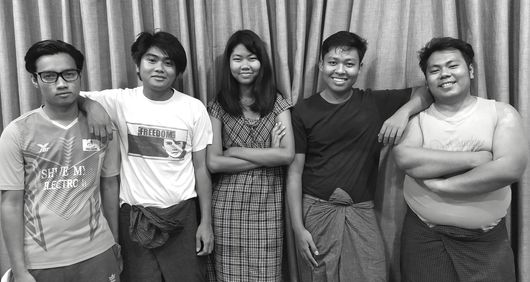 Five members of Peacock Generation convicted on 30 Oct © Peacock Generation
Five members of the Peacock Generation were arrested in April 2019 after they performed Thangyat, a traditional performing art similar to slam poetry. They were wearing military uniforms and criticised the authorities. After spending six months in detention, the five were convicted on 30 October for making "statements conducing to public mischief", and sentenced to one year in prison.
Other members of the troupe are facing additional charges for sharing photos, videos and livestreaming performance on Facebook, for "online defamation".
Members of Peacock Generation are facing the same charges in different townships, because they performed in various townships around Myanmar's New Year Water Festival in April. All charges have been filed by different military representatives (Lieutenant Colonels).
PLEASE TAKE ACTION until 17 December 2019
Please write using your own words or the template letter provided in the attached documents, in Russian, English or your own language, to the listed address as soon as possible: 
President U Win Myint
President's Office, Office No. 18 Nay Pyi Taw
Republic of the Union of Myanmar
Fax: +95 1 652 624
Downloads