Further prison sentences for "Peacock Generation"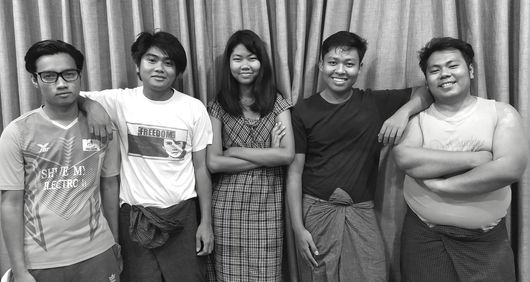 Five members of Peacock Generation © Peacock Generation
Six members of the Peacock Generation, a satirical poetry troupe in Myanmar, have been sentenced to one year in prison for a performance criticising the military. A seventh group member was acquitted of the charge and released.
Five of the seven group members are already serving prison sentences for a similar, separate performance. All seven members are facing further charges – and possible prison sentences – for their peaceful activities, including for livestreaming their performances. The six detainees are prisoners of conscience who should be immediately and unconditionally released.  
Thangyat is a century-old Myanmar traditional art form that fuses poetry, comedy, and music, and is usually performed during Myanmar's New Year Water Festival in April, and on other festive occasions. Public performances of Thangyat were banned in 1989 by the military and were allowed again in 2013.
In March 2019, ahead of this year's Water Festival celebrations, authorities in Yangon required Thangyat lyrics to be submitted to a government panel for approval.
PLEASE TAKE ACTION until 3 January 2020
Please write using your own words or the template letter provided in the attached documents, in English, Burmese/Myanmar or your own language, to the listed address as soon as possible: 
President U Win Myint
President's Office,
Office No. 18 Nay Pyi Taw
Republic of the Union of Myanmar
Fax: +95 1 652 624
Downloads