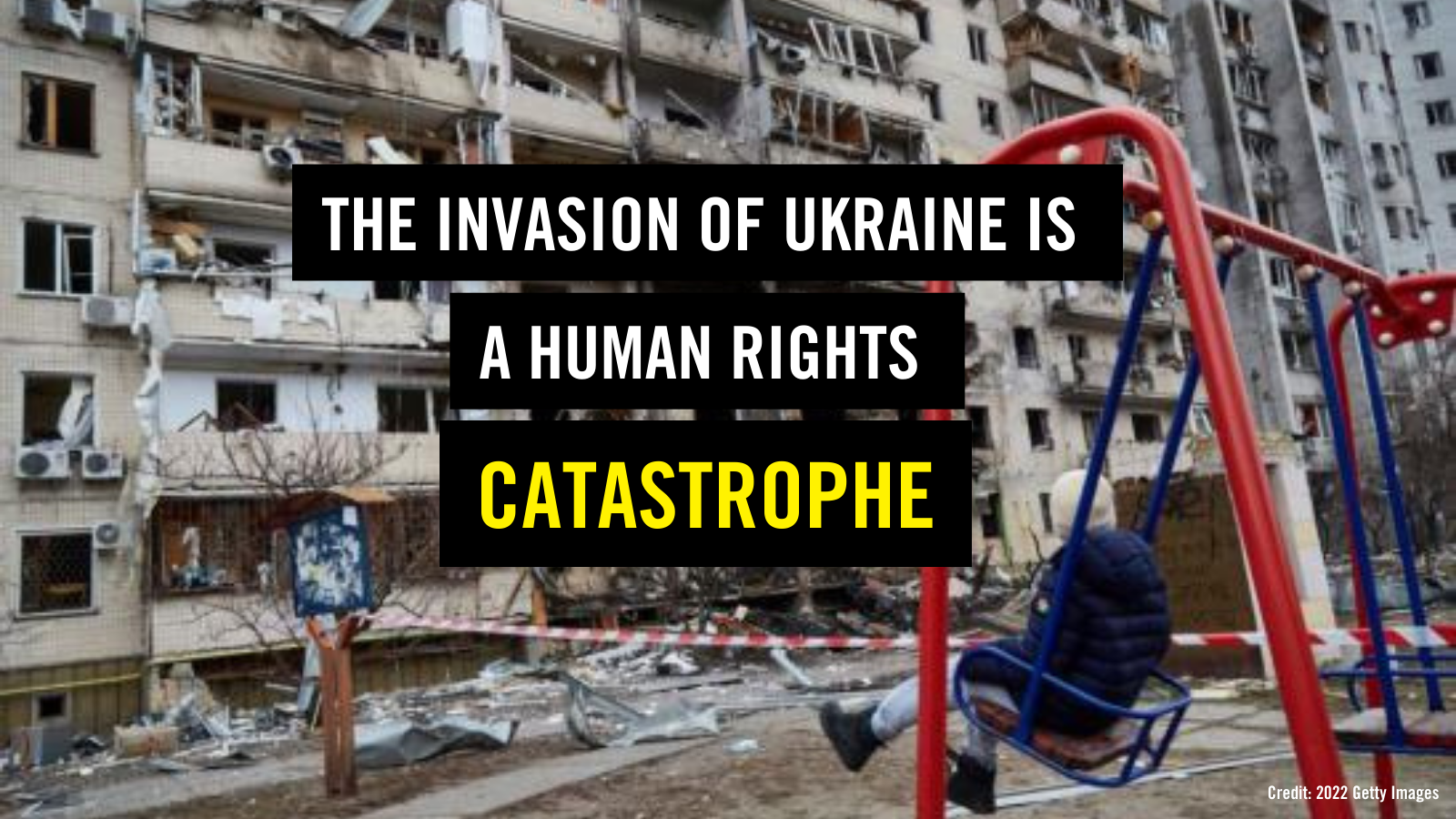 Early in the morning of 24 February, Russia launched an invasion of Ukraine, with troops crossing the border and explosions in multiple cities including the capital Kyiv. The invasion has led to horrific consequences for human lives and human rights.
Russia's invasion of Ukraine is an act of aggression and human rights catastrophe
Russia's invasion of Ukraine is an act of aggression that is a crime under international law. Russia is seeking to depose Ukraine's lawfully elected government, and it's having a massive impact on civilians' lives, safety and well-being. Its acts cannot be justified on any of the grounds that Russia has offered. To add insult to injury, Russia is a permanent member of the UN Security Council, giving them significant power on the international stage.
Since the invasion began on 24 February, we have been documenting the escalation in violations of humanitarian and human rights law. Many civilians have been killed after Russian forces indiscriminately attacked civilian areas, hitting hospitals, schools and towns. The invading army has used ballistic missiles and cluster bombs, some of which are banned, meaning their usage may qualify as war crimes.
Agnès Callamard, Secretary-General of Amnesty International, said: "Russia's invasion of Ukraine has triggered a massive human rights, humanitarian, and displacement crisis that has the makings of the worst such catastrophe in recent European history." 
Refugee rights 
Since the Russian invasion, well over 5 million people living in Ukraine have been forced to protect themselves and their families by seeking safety in neighbouring countries. More are expected to flee the country in the coming days and weeks.
The response by receiving countries needs to be immediate and must protect human rights.
Here are five essential rules countries should follow to help protect civilians in Ukraine:
1. Treat everyone equally 🧑🏿‍🤝‍🧑🏾
Anyone fleeing Ukraine should be given protection without discrimination.
2. Humanity first ❤️
Provide people with a humane reception and offer care according to their specific needs.
3. Keep all families together 🏠
Families shouldn't be separated - both at the border and they should be reunited in other countries.
4. Cut the red tape ✂️
Bureaucratic delays can lead to thousands of people stuck at borders in awful conditions. Get people to safety immediately, keeping the borders open and suspending entry requirements.
5. Share responsibility 🤝
Responsibility must be shared for receiving and relocating people fleeing danger at both the European and international level. This way more people will get to safety, faster.
🧵

Thousands of people living in #Ukraine have been forced to protect themselves and their families by seeking safety in neighbouring countries after Russia invaded.

Here are 5 'golden rules' countries should follow: pic.twitter.com/ol5epYjsst

— Amnesty UK (@AmnestyUK) March 1, 2022
What are we calling for?
Humanity first: 
We call on all countries to put humanity first, ensuring anyone fleeing Ukraine is given protection without discrimination.
Humanitarian agencies must be allowed to access and facilitate assistance to civilians affected by the hostilities. 
Accountability:
All involved in crimes under international law to be held accountable. 
The international community must support the investigation led by the International Criminal Court. 
Accountability around the invasion of Ukraine requires concerted and innovative efforts from the UN and nations.
Join us in calling for refugees fleeing Ukraine to be supported ➡️Share on Twitter
People in Ukraine are facing a catastrophic human rights crisis.

The Russian invasion has led to many civilian deaths, mass displacement & destruction of civilian housing.

Urge the PM to support refugees fleeing Ukraine without discrimination. Now. https://t.co/fhH0lhxnGg pic.twitter.com/7lbJqcW0pj

— Amnesty UK (@AmnestyUK) March 11, 2022
UK response
The UK government has committed to providing sanctuary to some of those fleeing Ukraine. Yet, the response has been slow, chaotic, and doesn't go far enough. More can and should be done to provide effective protection. 
Through the Nationality and Borders Bill, the government is still pursuing plans to penalise refugees entitled to asylum in the UK. This comes despite the humanitarian crises in Ukraine, Afghanistan and Syria.
We are calling on the UK government to:
Strengthen international efforts to protect civilians, provide humanitarian relief and help bring suspected perpetrators of crimes under international law to justice. 
Press for parties to the conflict to create and respect humanitarian corridors to safe havens, for all civilians to have access to transportation and time to leave, and for international observers to be granted access to monitor their safe passage.
Fulfil the commitment to provide sanctuary to 200,000 Ukrainian refugees in the UK by providing safe routes to travel here, such as by a temporary visa waiver.
Abandon measures in the Nationality and Borders Bill which will do serious damage to the UK's asylum system.
Urge the Prime Minister to support refugees fleeing war in Ukraine - take action now. 
Globally, people have been protesting Russia's invasion of Ukraine – they still are. Together, by continuing to highlight these human rights abuses and holding governments to account, we believe humanity can win.