It has been over 120 days since Russia's invasion of Ukraine. An act of aggression that violates the United Nations Charter and is a crime under international law. Over 120 days of attacks on civilian areas and strikes against hospitals, schools, and theatres.
Russia's military occupation and the resulting crisis has led to the gravest human rights and refugee crisis in Europe since World War Two.
As anticipated, the invasion has had horrific consequences for human lives and human rights. No matter who we are, all of us can feel the plight of Ukrainian families fearing for their lives. As headlines dissipate, solidarity with Ukrainian families and the victims of this war is part of our shared humanity.
Justice, accountability and redress for the victims of crimes under international law must be centred in any resolution to this crisis.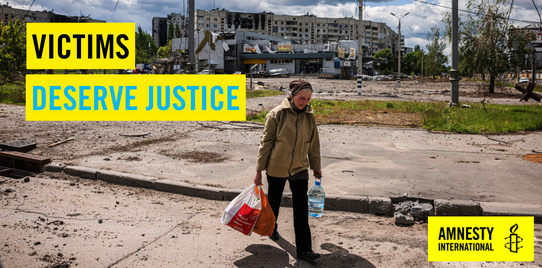 Justice for victims must be guaranteed.
Russia's invasion of Ukraine is an act of aggression and a crime under international law. Russia is seeking to depose Ukraine's lawfully elected government. Within and beyond Ukraine, this is having a massive impact on civilians' lives, safety and well-being. The International Court of Justice has ruled that Russia's acts are not justifiable. To add insult to injury, Russia is a permanent member of the UN Security Council, with significant power on the international stage.
We have conducted on-the-ground investigations and gathered testimonies across the towns of Borodyanka, Bucha, Andriivka, Zdvyzhivka and Vorzel. We documented unlawful air strikes and extrajudicial executions. In Kharkiv we documented war crimes by Russian forces against civilians. Everyday people were shelled by banned weapons in hospitals, at playgrounds and queuing for humanitarian aid. 
In Mariupol, we document how the Russian military likely deliberately targeted the Donetsk Regional Drama Theatre theatre despite knowing hundreds of civilians were sheltering there on 16 March, making the attack a clear war crime.
Agnès Callamard, Secretary-General of Amnesty International, said: "It is vital that all those responsible, including up the chain of command, are brought to justice."
 
Victims and their families deserve justice.
We demand impartial justice over all war crimes and crimes against humanity in Ukraine.
Holding perpetrators accountable and achieving justice
Both the International Court of Justice and the International Criminal Court have opened cases against Russia. International law is an important part of the history of human rights wins. International law is a key way to achieve justice for victims.
The importance of international humanitarian and human rights law is not only relevant for the Ukraine crisis. From Syria to Myanmar, Palestine to Sierra Leone, Bosnia to Cambodia, international law safeguards human rights and holds perpetrators accountable.
Agnès Callamard, Secretary-General of Amnesty International, said: "What is happening in Ukraine is a repetition of what we have seen in Syria."
The Koblenz Trial held in Germany was historic. Syrian officials were tried and convicted for torture. However, it was a partial win, as the court did not provide the victims with compensation. This showed that justice is possible but it must be victim-centred. We must ensure the same is possible for Ukrainian families.
Mansour Omari, Syrian human rights defender said: "For many Syrians, especially victims of torture, the trial has had a significant symbolic and emotional impact."
We welcome that the UK has committed humanitarian resources to ensure perpetrators are held to account. This includes support of the International Court of Justice, the International Criminal Court and UN Human Rights Council. They can do much more and we will be pressing them on this.
On #InternationalJusticeDay ⚖️, we are asking: what will the UK Govt do to secure justice for victims of the Ukraine crisis?

👉RT our open letter to @FCDOGovUK

Read our letter here 📩https://t.co/wOF0F9rq2R pic.twitter.com/HvCXifrlY9

— Amnesty UK (@AmnestyUK) July 17, 2022
What are we calling for?
Any justice processes or mechanisms should be comprehensive, and ensure that all perpetrators of war crimes, crimes against humanity, genocide, and the crime of aggression in Ukraine, from all sides to the conflict, are brought to justice in fair trials, without recourse to the death penalty.
Victims' rights: all international justice processes must ensure that the rights of all victims of the Ukraine conflict are fully realised.
Crime of aggression: the international community must urgently work to ensure that all individuals are held accountable for the crime of aggression, in a non-selective manner, in relation to all instances of aggression.
States should cooperate with other states' investigations, including the Joint Investigation Team established by Poland, Lithuania, and Ukraine, as well as with the ICC's investigation. Government authorities must also ensure that their own capacity (including in 'war crimes units') is sufficient to investigate and prosecute crimes under international law domestically.
Solidarity and support to Ukrainian civil society: Ukrainian civil society and groups which have documented, or are documenting war crimes in Ukraine, should be supported, including financially, and be at the forefront of engagement with, and any design of, international criminal proceedings and initiatives on Ukraine.
Support to ICC: States Parties and the international community must provide urgent support to the ICC, including budgetary support, effective and efficient cooperation, and high-level political support.
Ukraine authorities should ensure effective, independent, and impartial investigations into crimes committed by all parties to the conflict.
On the frontlines: human rights defenders
In the midst of war, brave human rights defenders in Ukraine are documenting evidence for use in justice initiatives. We are coordinating with a range of partners and planning to increase our work in support of Ukrainian human rights defenders.
Since the invasion began on February 24th 2022, our crisis teams have been documenting the escalation in violations of international law. Many civilians have been killed after attacks on hospitals, schools and towns.
The invading army has used ballistic missiles and cluster bombs, some of which are banned. This means their usage may qualify as a war crime. Abuses against prisoners of war, from both Russian and Ukrainian forces, have also been recorded.
Refugee rights
Since the Russian invasion, millions of people living in Ukraine have been forced to protect themselves and their families by seeking safety in neighbouring countries. More are expected to flee the country as the war rages on.
The response by receiving countries needs to be immediate and must protect human rights.
— Amnesty UK (@AmnestyUK) March 1, 2022
Repressing dissent for anti-war protest
Human rights defenders and peace activists in Ukraine, Russia and Belarus need your support as repression escalates.
The Russian Federation has been imprisoning anti-war protestors. Aleksandra Skochilenko, an activist who replaced price tags in supermarkets with anti-war slogans, faces 10 years in prison. Feminist anti-war activists are also being targeted. Since March, Russian authorities have begun a dangerous crackdown on civil rights and freedom of expression.
Globally, people have been protesting Russia's invasion of Ukraine – they still are. Together, by continuing to highlight these human rights abuses and holding governments to account, we believe humanity can win.