USA: Biden's approval of weapons sale to Israel puts civilians at greater risk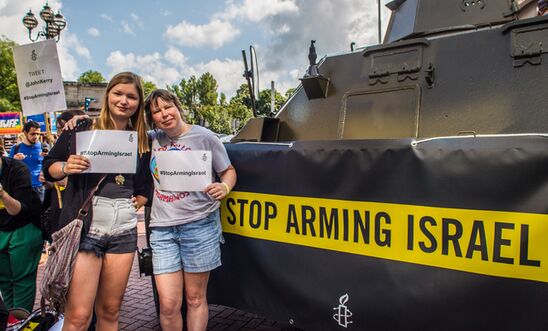 Amnesty Ireland demonstration in 2014 © Graham Seely
$735m arms sale announced despite rapidly rising civilian death toll in Gaza 
Call on UK to conduct 'full review' of its weapons sales to region
'Congress must oppose this sale' - Philippe Nassif
Responding to reports that the Biden administration has approved a $735 million sale of US weapons to Israel, Philippe Nassif, Amnesty International USA's Middle East and North Africa Advocacy Director, said:
"President Biden's approval of a $735 million offensive arms sale to Israel in the midst of violations of human rights and international humanitarian law perpetrated by Israeli forces and Palestinian armed groups directly undermines his commitment to upholding human rights around the world.

"By supplying weapons that could be used to commit war crimes, the US government is taking the risk of further fuelling attacks against civilians and seeing more people killed or injured by US-made weapons.

"Hundreds of civilians, Palestinians and Israelis, have already lost their lives in this conflict. 

"The Biden administration must reconsider its decision to send more weapons into a situation in which human rights and international humanitarian law are violated every day, and if necessary, Congress must oppose this sale."
Yesterday, Amnesty reported on the shocking impact for civilians of four specific Israeli airstrike attacks on residential homes without prior warning in Gaza, and is calling for the International Criminal Court to urgently investigate these attacks as suspected war crimes. 
Arms embargo needed
Amnesty has called on the UN Security Council to immediately impose a comprehensive arms embargo on Israel, Hamas and other Palestinian armed groups with the aim of preventing further serious violations of international humanitarian law and human rights by parties to the conflict. All countries must immediately suspend all transfers of military equipment, assistance and munitions to the belligerent parties.
On the UK's sale of arms to Israel, Oliver Feeley-Sprague, Amnesty International UK's Military, Security and Policing Programme Director, said:
"Israeli forces and Palestinian armed groups are committing numerous war crimes in this terrible conflict, and the UK must ensure it is not party to these crimes with its arms sales. 

"Ahead of a full review of UK arms sales to the region, ministers should immediately halt all military exports to Israel or any third country which could be using UK-supplied components to incorporate into weaponry supplied to Israel.

"We've called on the UN Security Council to impose a comprehensive arms embargo on Israel, Hamas and other Palestinian armed groups, but deadlock at the UN means countries such as Britain must act sooner rather than later.

"In particular, UK ministers must say whether UK technology is still being used in the Israeli military drone programme - something that came to light as long ago as 2006 but is still largely shrouded in secrecy."