G7 Afghanistan meeting: Boris Johnson must 'lead by example' over humanitarian crisis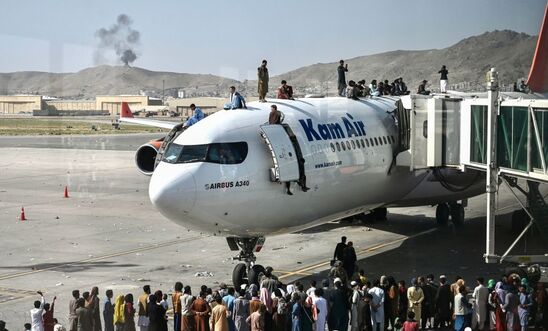 Afghan people climb atop a plane as they wait at the Kabul airport in Kabul on August 16, 2021 © WAKIL KOHSAR/AFP/Getty Images
Ahead of an emergency G7 meeting on Afghanistan due to be held later today [24 Aug], Amnesty International is urging Prime Minister Boris Johnson to ensure that the UK "leads by example" in the international response to the gathering humanitarian crisis in Afghanistan.
Sacha Deshmukh, Amnesty International UK's CEO, said: 
"Boris Johnson needs to ensure the G7 rises to the challenge of what's happening now in Afghanistan, agreeing a comprehensive international response. 

"Every available hour for emergency evacuation is precious and the G7 must support efforts to rescue those at most immediate risk - including Afghan journalists, civil society activists and women human rights defenders. 

"Given the scale of the crisis, the G7 response cannot be focused solely on the next few hours and days or solely on Kabul airport. The G7 needs to put politics aside and work with all countries in the region - especially Pakistan and Iran - to ensure that borders are kept open and material assistance provided. 

"With a disproportionate responsibility for refugees already falling on neighbouring countries, G7 nations must redouble efforts to establish effective and meaningful resettlement schemes, family reunion procedures and humanitarian visas to share in that moral and legal duty.     

"G7 countries need to lead by example here, ensuring they have the right refugee policies at home. The UK must abandon draconian new plans to criminalise people for seeking asylum in the UK. Afghans already in Britain should be given full protection status."
Amnesty's campaign
Amnesty International UK has launched an urgent action - www.amnesty.org.uk/AfghanistanCrisis - calling on the Prime Minister to act urgently to help Afghans at risk.