125 incidents of police violence during Black Lives Matter protests - new report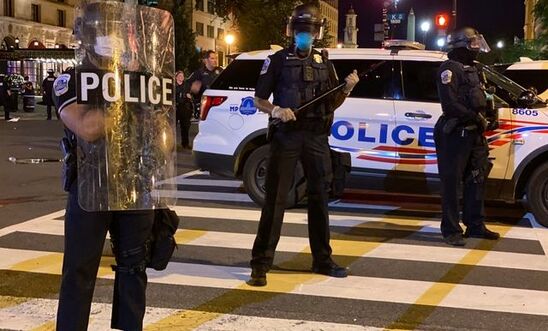 Police at a Black Lives Matter protest in Washington DC in June © Amnesty International/Alli Jarrar
Most comprehensive report into protests yet, records 89 cases of tear gas use across 34 states, and 21 incidents of unlawful use of pepper spray 
Tear gas and pepper spray used as 'first resort tactic' against peaceful protesters 
'I had a lot of open skin and it was burning for an hour' - Elena Thoman, Denver
Amnesty has called for halt to UK exports of crowd-control equipment to USA
Police in the USA committed widespread human rights violations against protesters, medics, journalists and legal observers during Black Lives Matter protests, said Amnesty International today, as it published a new report documenting 125 separate incidents of police violence. 
Based on more than 50 interviews conducted over several weeks in June, the report is the most comprehensive human rights analysis of police violence during the protests to date - and builds on interactive mapping of US police violence published by Amnesty in June.  
The 68-page report - The World is Watching: Mass Violations by US Police of Black Lives Matter Protesters' Rights - shows that law-enforcement officers repeatedly used physical force, chemical irritants such as tear gas and pepper spray, and kinetic impact projectiles as a first resort tactic against peaceful protesters rather than as a response to the threat of or actual violence. 
Amnesty has documented 89 cases of the use of tear gas in cities across 34 states, and 21 incidents of unlawful use of pepper spray in 15 states and the District of Columbia. Such unnecessary and excessive tactics were also used to target medics, legal observers and media representatives. Tear gas was used recklessly despite the extra dangers presented by the COVID-19 pandemic, escalating the risk of virus transmission and respiratory issues among protesters wearing masks and attempting to socially distance due to the virus.
Elena Thoman, 17, who was tear gassed by police in Denver, told Amnesty USA researchers:
"At first it feels like the feeling when you're chopping onions and then escalates to the point where your skin is burning ... I had a lot of open skin and it was burning for an hour. It made me cough a lot - I had to take my mask off because the mask had tear gas in it ... so even though there is COVID, I had to take my mask off."  (see further tear gas testimonies below). 
Between 26 May and 5 June, Amnesty documented at least six incidents of police using batons, and 13 instances of the use of kinetic impact projectiles such as sponge rounds and rubber bullets in 13 cities across the country. 
Intensive care nurse Danielle Meehan, who treated 26-year-old student Aubreanna Inda after she was hit in the chest with a flash grenade in Seattle, said:
"[She] lost her pulse 3-4 times after my medic partners and I started treating her. We resuscitated her each time with [cardiopulmonary resuscitation]." (see further projectile testimonies below)
Amnesty is calling on the Department of Justice and all state attorneys general to fully investigate allegations of human rights violations by police officials during the protests, bringing all those found responsible - including commanding officers - to account through criminal or disciplinary proceedings. Amnesty is also calling on the US Congress to pass new legislation - the Protect our Protestors Act of 2020 - and for all law-enforcement agencies to revise their policies and practices for the policing of protests to ensure they comply with international human rights standards. 
Ernest Coverson, Amnesty International USA's End Gun Violence Campaign Manager, said:
"The unnecessary and sometimes excessive use of force by police against protesters exhibits the very systemic racism and impunity they had taken to the streets to protest. 

"The research shows that people who were simply exercising their human right to peacefully protest were met with such violence that they lost eyesight, survived brutal beatings, and suffered seizures and severe wounds."
Justin Mazzola, a researcher at Amnesty International USA, said: 
"President Trump's actions represent a slippery slope toward authoritarianism and must immediately stop. We need the country's approach to the policing of protests to be changed from the ground up at the local, state, and federal levels." 
Export of UK security equipment to US police forces
In recent years, the UK has approved export licences for the supply of a wide range of crowd-control and security equipment to US military and law-enforcement, including: riot control shields, CS hand grenades, crowd-control ammunition, smoke canisters, smoke/pyrotechnic ammunition, tear gas/irritant ammunition and tear gas/riot control agents. In light of the excessive and disproportionate policing by numerous US law-enforcement agencies of the Black Lives Matter protests in May, Amnesty UK called for a halt on UK exports of such equipment where there remained "a clear risk of further misuse". Last week, it was reported that UK officials had carried out a "review" of UK-US police equipment exports, concluded there was "no clear risk" of misuse and decided that fresh licences for such exports could be issued. 
Further testimonies
Rabbinical student and protester Lizzie Horne told Amnesty about the impact of the authorities using pepper spray and tear gas against her and a large group of protesters who were trapped on an embankment of a highway in Philadelphia:
"Out of the blue, they started breezing pepper spray into the crowd ... then they started with the tear gas. Someone who was right in front - had a tear gas canister hit his head and started running back. We were trying to help him, flushing his eyes and then he just fainted and started having a seizure." 
NBC News photojournalist Ed Ou, who was attacked by police officers in Minneapolis, said: 
"They had enough time to shake the pepper spray and to spray it, despite me and others shouting, 'Press, press,' continually." 
The photojournalist explained that his group was corralled back into a dead end with nowhere to escape as police officers used batons to beat them and discharged grenades, tear gas, and pepper spray on them. With his head bleeding, and despite his repeatedly asking for help, several law-enforcement officers walked past him offering no assistance. Ed Ou was treated at a nearby hospital, requiring four stitches for his head injury. He said:
"I've literally spent most of my career in places where being a journalist was something I had to hide and something I had to be careful about sharing. And this is one place where I should be able to proclaim this is what I do."
Legal observer Jack*, who was beaten by the police in Chicago, said: 
"Three to four more officers who were behind me pulled me up onto a concrete barrier and threw me over onto a wheelchair ramp. I landed on my back and lost my hat. I was looking around when three or four other officers started hitting me with batons. Another protester tried to stop the police, and they started hitting him. People were yelling 'legal observer' as it was happening. I was crouched, trying to protect myself, and telling them, 'I'm not resisting, I'm not resisting.'" 
* Name changed to ensure interviewee's anonymity.