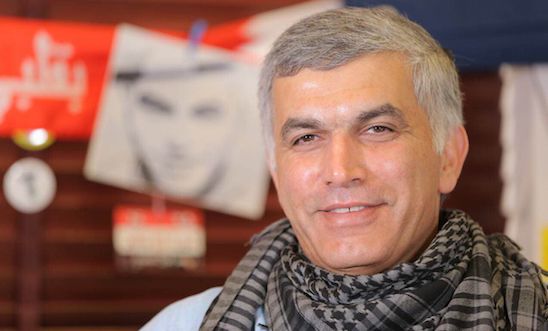 Nabeel Rajab © Private
"I know [the Bahraini authorities] are serious about targeting me or silencing me. I guarantee that they will leave me alone if I keep quiet. But I know myself I will never keep quiet. I will keep speaking for those people, for those victims, who cannot speak about themselves."
Nabeel Rajab
Bahraini authorities would rather you didn't listen to Nabeel Rajab. He's one of the country's leading human rights activists, and a permanent thorn in the authorities' side. He's currently jailed for tweeting - again.
Bahrain is one of the worst countries in the world when it comes to free speech and many other human rights - and Nabeel has spent his life trying to change this.
This is a man on the frontline of human rights and civil rights, fighting desperately for things that many of us take for granted. His story is one of defiance.
Listen to Nabeel tell his story
Nabeel spoke to us over Skype from Bahrain, where the authorities have placed him under a travel ban, preventing him from leaving the country. We recorded this episode at the start of 2016. Nabeel was imprisoned again just months later - for tweeting.
Underground human rights movement
Talking about human rights was a crime when Nabeel was growing up in Bahrain in the 1960s and 1970s. After studying in India, he returned to Bahrain and in the 1980s took the great risk of founding the country's first human rights organisation - in secret.
Nabeel's group, the Bahrain Society for Human Rights, operated underground as such groups were not tolerated by Bahrain's rulers. The group was eventually allowed to work openly in 2002, following governmental reforms. 
Today, Nabeel is one of the most prominent human rights figures in the country. He is the President of the Bahrain Centre for Human Rights, the Founding Director of the Gulf Centre for Human Rights, and the Deputy Secretary General of the International Federation for Human Rights.
Pearl roundabout protests and crackdown
'I did not believe that I would see three quarters of the population taking part in protests - in a population of 600,000 people. This isn't something you have witnessed before in mankind.'
Nabeel
In early February 2011, amidst the uprisings across the Middle East and North Africa - the so-called 'Arab Spring' - people took to the streets across Bahrain, demanding governmental reform. In the capital city of Manama, protesters came together around the Pearl Roundabout. Such protests had not been seen in the country's recent history.
The authorities responded with brute force. Security forces undertook a night raid on the Pearl Roundabout, killing protesters and injuring many more. Others later died in custody after being tortured in the wake of the protests.
'It is a black spot in our government's history that people will never forget'
Nabeel
Political and human rights activists, teachers and doctors were amongst those arrested for leading or participating in the 2011 protests, or for speaking out about abuses in the crackdown afterwards. Five years on, many of them remain behind bars, some of them serving life sentences after being convicted based on 'confessions' they said were extracted through torture.
In stark contrast, there has been no accountability for the overwhelming majority of violations committed by the security forces. The few members of the forces who have been prosecuted - including those who shot protesters dead - have either been acquitted for 'self-defence' or given token sentences that do not reflect the crime committed.
Facing another prison sentence for tweeting
Nabeel currently faces yet another prison sentence for his tweets.
He was arrested at his home in the village of Bani Jamra on 13 June 2016 by 15 policemen in civilian clothing after the neighbourhood was surrounded by riot police at about 5am. He was charged with using his Twitter acount to 'spread false news in time of war', 'insult public authorities' and 'insult a foreign country.
Bahraini authorities have kept Nabeel in detention since his arrest in June, but he has not yet been tried before the courts.
Punished for social media posts
'The Bahraini authorities have expressed outrage at criticism of their human rights record, claiming they have introduced a series of reforms in recent years. However, these reforms amount to little more than empty gestures. Bahrain today remains a country where exercising freedom of speech is treated as a crime.'
Said Boumedouha, Amnesty's Middle East Deputy Director
Social media has opened lots of opportunity for discussion around human rights in Bahrain.
Meanwhile, the Bahraini authorities seem to view the free speech opportunities offered by platforms like Facebook and Twitter as a threat - especially when they're used by activists like Nabeel.
In 2015, Nabeel was dealt a six-month prison sentence for tweets criticising the government. He was released after three months, after fears for his health.