Bahrain: six-month jail sentence for Nabeel Rajab condemned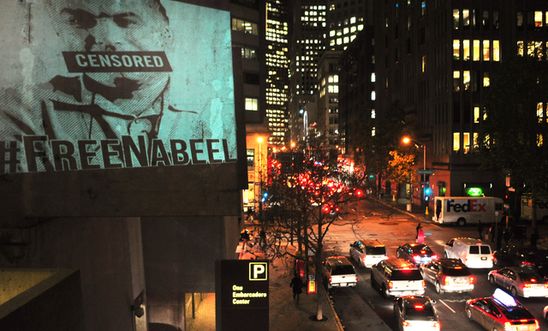 A projection of Nabeel Rajab in San Francisco © Amnesty International (Tina Xu)
'Bahrain today remains a country where exercising freedom of speech is treated as a crime' - Said Boumedouha  
The appeal verdict against Bahraini human rights activist Nabeel Rajab confirming his sentence of six months in jail for insulting government institutions on Twitter demonstrates the Bahraini authorities' complete disregard for the right to freedom of expression, said Amnesty International today.
Mr Rajab, President of the Bahrain Centre for Human Rights, was initially sentenced to six months in prison on 20 January for "publicly insulting official institutions", namely the Ministries of Interior and Defence, on Twitter, after he posted comments suggesting that Bahrain's security agencies may have acted as "incubators of extremist ideologies" for Bahrainis who travelled to Iraq and Syria to join the Islamic State armed group. 
Meanwhile, Rajab is also facing additional charges in a separate case in relation to comments said to have been posted on Twitter or retweeted by him on the war in Yemen and incidents in Jaw prison after a prison strike on 10 March. If convicted, he could face up to ten years in prison.
Amnesty is calling on the Bahraini authorities to release Rajab immediately and unconditionally.
Amnesty International Middle East Deputy Director Said Boumedouha said:
"Today's verdict shows once again that Bahrain is brazenly flouting its international obligations. 

 

"Nabeel Rajab has been sentenced solely for peacefully expressing his opinion. The Bahraini authorities must release him immediately and unconditionally, and ensure his conviction is quashed.

 

"The Bahraini authorities have expressed outrage at criticism of their human rights record, claiming they have introduced a series of reforms in recent years. However, this case provides further proof that these reforms amount to little more than empty gestures. 

 

"Bahrain today remains a country where exercising freedom of speech is treated as a crime."