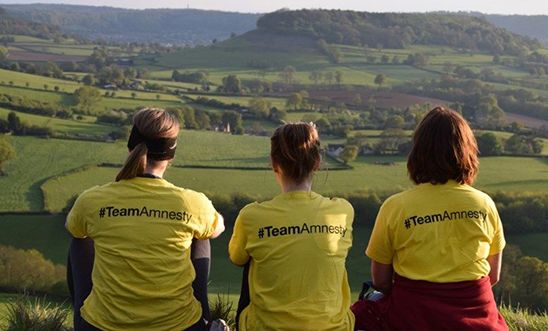 Date: 2nd - 3rd of May 2020
Distance: Choose from 25K/26k (quarter island), 52K/53k (half island) or 106K (full island)
Location: Isle of Wight
Minimum fundraising target: £245 (25km), £395 (50km) and £595 (106km) 
Registration fee: £5 (25km), £10 (50km) or £15 (106km) 
Minimum age: 12 (25K), 14 (50K) or 16 (100K)
It's a tough but achievable challenge. Join us on the Spring Bank Holiday weekend for an unforgettable experience, as you journey round a quarter, a half – or the full way around the Isle of Wight.
Run, jog or walk the island's stunning costal path, taking in the spectacular coastlines, dramatic white cliffs and sandy beaches – and do it for human rights.
From those who run 100km course as an ultra marathon, to those who walk and part-jog the 25km course – everyone takes on their own Isle of Wight challenge for their own reason. One thing is sure – it takes strength and determination to complete. Are you ready to take it on in 2019?
Sign up to the Isle of Wight Challenge
Choose a distance to suit you
Take your pick of three distances:
Quarter island: 25km
Half island: 53km
Whole island: 106km
Share the challenge - enter as a team
It's quite a challenge to take on solo, so if you'd prefer to share the load, this event does take team entries so you can walk, run or jog as a relay with mates, family members or colleagues. Makes training all that much easier when there are others taking on the challenge with you!
Do it at your own pace
There are options to camp overnight if you're embarking on the full-island circumference challenge. You can also do half of your distance on the Saturday, and half on the Sunday.
There are rest stops along the course.
Get in touch to talk over your options regarding solo/team entries and distances – we'll be happy to help.
What we'll give you
Sign up to Team Amnesty and you'll get fundraising packs and tons of ideas of how to raise cash as you train for the weekend - as well as prep tips and schedules, and of course your event vest.
The challenge is there; the support is ready: all that's missing is you!
The organisers also provide free meals and snacks throughout. They make sure that pace walkers and medics are on-hand, and there are opportunities for a massage once you reach your challenge finish line! Plus you'll get a medal, t-shirt and glass of bubbly if you want one.
Get in touch
If you have any questions about this event, please contact Ben Gerrish, our Community Fundraising Coordinator.
Email: team@amnesty.org.uk
Phone: 020 7033 1651