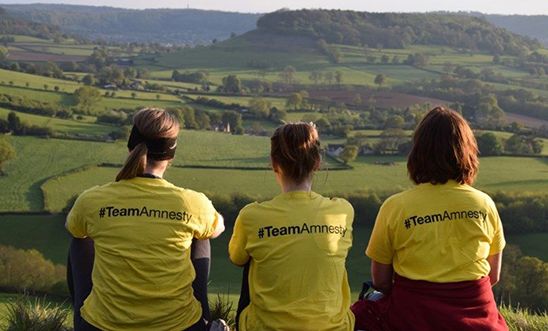 Great challenges need great settings - and none are better than the Isle of Wight's coastal path! Join fellow adventurous souls by taking on this island challenge whilst raising vital funds for Amnesty International UK's human rights work
The challenge runs along the spectacular southern cliffs, past the iconic Needles and up to historic Cowes at the half way stop. For Full Island challengers it's on to historic Ventnor, and back to our welcome Base Camp in Chale after an epic 106km journey. You'll get full support & hospitality all the way, and with half & quarter Island options also - there's an Isle of Wight Challenge for everyone!
So sign up today, either as an individual or in a team and prepare for a beautiful experience that you'll never forget! 
Sign up to the Isle of Wight Challenge
Vital info
Date: 30 April - 1 May 2022
Distance: Choose from 25/26km (quarter island), 52/53km (half island) or 106km (full island).
Location: Isle of Wight
Minimum age: 14-17 with an adult (25km), 18 (50km or 100km)
Registration fee(charity sponsorship option): £10 (25km), £20 (50km) or £30 (100km)
Minimum fundraising target: £245 (25km), £395 (50km) and £595 (100km)
Fundraising Options
Charity Sponsorship (detailed above) – low registration fee supplemented by your fundraising efforts, charity charged for the place
Sign up to the Isle of Wight Challenge Charity Sponsorship Option
 
Mixed Funding – lower fundraising target and you pay half the event cost (chosen charity pays other half)
Sign up to the Isle of Wight Challenge Mixed Funding Option
 
Self Funding – you pay for your place and fundraise whatever you want with no targets, deadlines or cost to the charity
Sign up to the Isle of Wight Challenge Self Funding Option
What you'll get
Take on the Challenge with Team Amnesty and we'll give you: 
Fundraising pack with tons of ideas to help you reach your target
Team Amnesty t-shirt to train in and wear on the day
Amnesty materials on request
Support from the friendly community fundraising team 
Rest stops with free food & drink
2 Day Full 'Daylight' option 
Fully signed route
Medics, massage, and pace walkers
Medal, T shirt and a glass of bubbly
Camping options available
Training guides & apps to help you prepare
Please note these events are organised by Action Challenge. Participants raising funds for Amnesty International UK will be joined by others, raising money for different charities. Find out more on the Action Challenge website. 
Got any questions?
Check out the Isle of Wight Challenge Event Factsheet or get in touch:
Email – team@amnesty.org.uk 
Call – 020 7033 1646