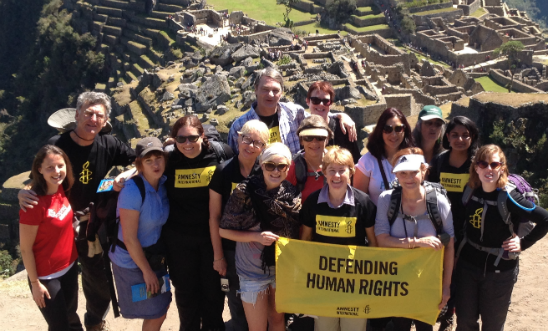 Trek the world for human rights
We work with Charity Challenge who run fundraising treks across the world. Each trek is an unforgettable experience taking in stunning scenery. Many of these are open treks, meaning you can take part in them and support a charity of your choice. If you want to have the experience of a lifetime and raise money for human rights, sign-up for a Charity Challenge trek and choose to raise money for Amnesty International UK today
See below for a selection of treks you can sign-up for today
Morocco: High Atlas Trek
Dates: 27 Apr - 02 May 2019, 22 Jun - 27 Jun 2019, 07 Sep - 12 Sep 2019
Duration: 6-days
Minimum fundraising target: £1,735
Registration fee: £150
This challenge will have you scrambling over northern Africa's tallest peak – Jebel Toukal, standing at a majestic 4,167m! Your adventure will finish in the vibrant Moroccan city of Marrakech.
Read more and sign-up to trek Morocco for human rights
Iceland: Lava Trek
Date: 18 Aug - 22 Aug 2018 (& various dates in 2019)
Minimum fundraising target: £3,150
Registration fee: £395
Host to some of Europe's most incredible wilderness, this Icelandic itinerary takes in thundering waterfalls, steaming lava fields, plunging fjords and spouting geysers. Your hard work will be rewarded with an indulgent visit to Iceland's famous Blue Lagoon.
Read more and sign-up to trek Iceland for human rights
Tanzania: Maasi Bush Trek
Date: 20 Oct – 28 Oct 2018
Minimum fundraising target: £4,550
Registration fee: £475
This exciting challenge takes place in Tanzanian countryside, home to several Maasai communities. Led by Maasai guides, we begin from the bottom of Mt. Longido (2,590m), trekking across the floor of the Great Rift Valley to the foothills of the Crater Highlands.
Read more and sign-up to trek Tanzania for human rights
Peru: Machu Picchu Trek
Date: 05 Oct – 14 Oct 2018
Minimum fundraising target: £3,975
Registration fee: £395
The feeling of walking through the Sun Gate to witness Machu Picchu for the first time will live with you forever.
The Trek to Machu Picchu follows the uncrowded Lares Valley route, surrounded by spectacular mountains, raging rivers, hot springs and remote mountain communities.
Celebrate your success with the group as you marvel at the awe-inspiring lost Incan city of Machu Picchu.
Read more and sign-up to trek Machu Picchu for human rights
If you'd like more information on trekking to raise money for Amnesty International UK, please fill in this form and someone from our Community Fundraising team will be in touch
How we'll support you
Whether you're a seasoned trekker or it's your first time, we'll support you every step of the way. Join our team and you'll get:
A fundraising pack with tons ideas to help you reach your target

A Team Amnesty t-shirt, which you can wear during your trek

Amnesty materials on request

Dedicated member of staff for one-to-one support
We know what commitment a trip like this entails and will do everything we can to help you fulfil this incredible challenge. We couldn't exist without people like you, supporting others around the world denied their human rights.
Team Amnesty Trek
We are planning on organising an Amnesty International trek in partnership with Charity Challenge next year. What this space for details on this.