You Can Go Your Own Way Challenge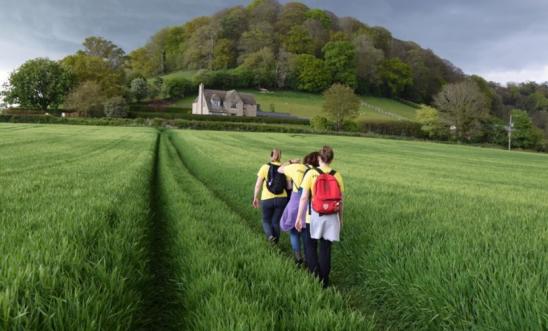 Take on your own challenge such as a walk or trek to protect human rights
Supporting Amnesty International UK's human rights work can be very simple, you don't necessarily have to sign up to a specific challenge event with set dates, distances and fundraising targets. Instead, you can go your own way and devise your own challenge, such as a walk or trek in your local area (or anywhere that takes your fancy)! This can be done at a time that suits you, tailored to your capabilities and with your own fundraising target. Below are 3 simple steps to get you started:
Decide on a route: starting at X and finishing at Y covering a certain number of miles/ kilometres.
Set a date: select a date and either go solo or get a few friends together to participate with you.
Start fundraising: set up a JustGiving fundraising page for Amnesty – personalise your page with a photo and information about your event and why you are doing it. Share the link to your page across your networks to tell them about the great thing you are doing - every donation made on your page will come directly to Amnesty International UK and helps fight for human rights. 
If you decide to go your own way and take on your own challenge for Amnesty International UK, we will support you every step of the way with tips and advice, and you can get your very own yellow Team Amnesty t-shirt or vest for the event! Tell us about your event and any support you may need by completing the form below:
Tell us about your personal challenge event for human rights
Quite a few individuals and small groups have done this, below are a few examples, which may just inspire you to join them!
Maggie's walking marathon: Maggie (pictured below) walked the distance of two marathons (54.4 miles) over a month and raised £1,775 for Amnesty International UK through her efforts. "It's done wonders for me mentally and physically. Friends, and my sister walked with me, which was brilliant. I've enjoyed it so much." Thank you Maggie! 
To celebrate his 95th birthday, Gerald walked 10km along his beloved Brighton seafront and asked for donations to Amnesty International UK instead of presents. He raised almost £1,000 for Amnesty International UK, happy birthday Gerald! 
A local group in Exeter decided to take advantage of the beautiful sites in their area (see below) and walked 6.5 miles, raising £800 in the process. Upon completing the challenge they posted on their Facebook page, "We did it! We walked up and down the winding lanes and hedges rows of glorious East Budleigh on our 6.5 mile sponsored walk for Amnesty International UK. Great company, good conversion with silly humour thrown in, all ending at our lovely hosts John and Jenny's home for a healthy bring your own food session. All of this whilst not forgetting the meaning why we came to together today....we also wrote a few cards of solidarity for  those who would of loved to of been with us out in the countryside but who can't as they are detained ...such as those by the Turkiye government the Gezi7  #FreeTheGezi7." Excellent work team!
Other challenges – as well as personal walks we have individuals and groups perform their own runs, cycles and staircase climbs amongst many other challenges, so you can keep it as simple or be as creative as you like!
Feeling inspired? You Can Go Your Own Way today – tell us about your event or set up your fundraising page now!
Whatever your challenge, the Community and Events Fundraising Team are on hand to offer you support:
A beautiful yellow Amnesty t-shirt or running vest to wear with pride.
A fundraising pack filled with advice and ideas.
Access to fundraising materials such as posters, badges, collecting tins.
An experienced and dedicated Community and Events Fundraising team with loads of advice and support to offer.
Regular updates on our human rights successes and how your support makes a difference.
If you have any questions regarding this then please do not hesitate to get in touch via team@amnesty.org.uk or 07771 888825.