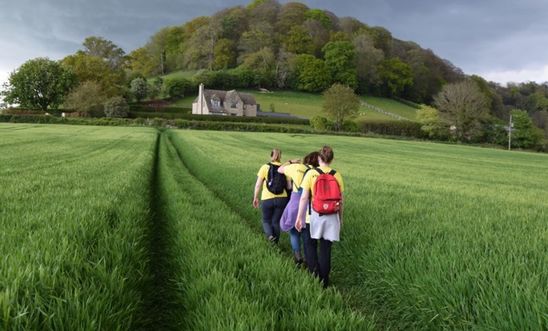 'We raised £3,280. It was tough but incredible. We'd recommend it to anyone.'
Nicola Schoonderwoerd, who took on the Cotswold Way Challenge with three friends
The magical Cotswold Way provides a stunning setting for a testing challenge - with some fantastic views en route and tough hills in between! Tackle all this whilst supporting Amnesty International UK's work protecting human rights the world over!
It's a Saturday morning start in historic Bath, with up to 100km of footpaths and trails to get to the Cheltenham finish line. Whether you're a keen walker and new to endurance events, or a seasoned hiker up for a new adventure - with half and quarter distance options also - there's a Challenge here for everyone. You'll get full support & hospitality all the way to your finish line - where an amazing sense of achievement & celebration awaits.
Sign up to the Cotswold Way Challenge
Special January £1 sign up deal!
Take on this challenge in 2021, support Amnesty International UK and tick off a few resolutions – all for just £1! You can sign up for a 100km, 50km or 25km Ultra Series Challenge (Charity Sponsorship option) - and walk, jog or run your way along one of the most beautiful courses in the UK. Simply register and use the code NYCHARITY to sign up for just £1 throughout January. You can support Amnesty International UK using this £1 deal if you sign up to any of the 14 Ultra Series Challenge courses in January.
Vital info
Date: 26th / 27th June 2021
Distance: Choose from 25K, 50K or 100K
Location: Bath - Cheltenham
Minimum age: 14-17 with an adult (25km), 18 (50km or 100km)
Registration fee: £5 (25km), £10 (50km) or £15 (100km)
Minimum fundraising target: £245 (25km), £395 (50km) and £595 (100km)
Fundraising options
Charity Sponsorship (detailed above) – low registration fee supplemented by your fundraising efforts, charity charged for the place
Sign up to the Cotswold Way Challenge Charity Sponsorship Option
 
Mixed Funding – lower fundraising target and you pay half the event cost (chosen charity pays other half)
Sign up to the Cotswold Way Challenge Mixed Funding Option
 
Self Funding – you pay for your place and fundraise whatever you want with no targets, deadlines or cost to the charity
Sign up to the Cotswold Way Challenge Self Funding Option
 
What you'll get
Take on the Challenge with Team Amnesty and we'll give you:
Fundraising pack with tons of ideas to help you reach your target
Team Amnesty t-shirt to train in and wear on the day
Amnesty materials on request
Support from the friendly community fundraising team 
Rest stops with free food & drink
2 Day Full 'Daylight' option 
Fully signed route
Medics, massage, and pace walkers
Medal, T shirt and a glass of bubbly
Camping options available
Training guides & apps to help you prepare 
Sign up to take on the Challenge and raise money for human rights
Please note these events are organised by Action Challenge. Participants raising funds for Amnesty International UK will be joined by others, raising money for different charities. Find out more on the Action Challenge website.
Got any questions?
Check out the Cotswold Way Challenge Event Factsheet or get in touch:
Email - team@amnesty.org.uk 
Call – 020 7033 1646