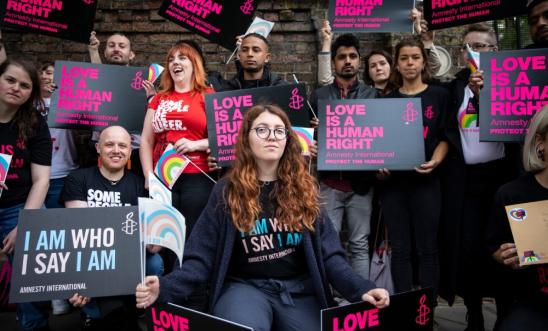 Amnesty International UK members and supporters deliver a petition in London, UK, 17 May 2019 © Amnesty International
How to become an LGBTQ+ Rights Activist for Amnesty International UK
No one should be discriminated against because of who they love or how they identify. Yet around the world, there is still an incredibly high number of individuals being marginalised or treated unfairly for exactly this reason. LGBTQ+ discrimination can take many forms, ranging from bullying and harassment to legal, employment, and healthcare discrimination. 
Not only can this discrimination have a significant impact on the mental and physical health of LGBTQ+ individuals, but it can also contribute to wider social and economic inequalities. Fighting for laws and removing harmful stereotypes is crucial in ending LGBTQ+ discrimination. 
As an LGBTQ+ rights activist who makes up part of the Amnesty International UK Rainbow Network you would join a global movement working towards promoting and protecting the human rights of individuals who identify as LGBTQ+.
The Importance of LGBTQ+ Rights Activism and Amnesty UK's Work
LGBTQ+ rights activism seeks to ensure that LGBTQ+ individuals have the same human rights and protection as everyone else. Activists also work to address discrimination and stigmatisation that impact people's health, social, and economic equality. They are vital in representing the LGBTQ+ community politically, as well as in the media and other social spaces. The greater the representation, the higher the likelihood of overturning harmful stereotypes and creating more acceptance for LGBTQ+ individuals.
LGBTQ activists are critical to the work of Amnesty International UK to promote equality for and protect the human rights of the LGBTQ+ community.  Our actions as part of the Rainbow Network take many forms including:
Producing resources that educate people on issues faced by LGBTQ+ groups and individuals.
Monitoring and recording cases of LGBTQ+ discrimination.
Campaigning and lobbying to remind governments and authorities of their duty under international law to protect the equal rights of the LGBTQ+ community.
Organising and campaigning for events that celebrate LGBTQ+ rights to be widely supported and protected. 
How to Get Involved in LGBTQ+ Rights Advocacy
There are lots of different ways to get involved in LGBTQ+ rights advocacy as part of the Amnesty UK Rainbow Network, such as:
Educating yourself and others about LGBTQ+ rights and the current issues they face.
Volunteering at local LGBTQ+ organisations or acting as a mentor to LGBTQ+ individuals.
Attending LGBTQ+ events to show your support for the community. This is also a great way to meet and connect with other advocates.
Advocating for policy changes that support LGBTQ+ rights.
No matter what form your activism takes, by taking action, you will be helping to promote acceptance and protect the human rights of LGBTQ+ individuals and groups. 
Advocacy and Lobbying for LGBTQ+ Rights
Lobbying for LGBTQ+ rights involves advocating for policy changes and legislation that provides greater equality and acceptance. 
To be an effective LGBTQ+ advocate, you should:
Ensure you understand the issues you're lobbying for by researching LGBTQ+ rights and issues.
Use this research to develop a clear and concise message that you can share with your local elected representatives.
Contact your local representatives to ensure that your message is heard.
Build coalitions and collaborate with other advocacy groups to amplify your message.
Follow up and stay engaged in the legislative process by tracking the progress of certain policies and attending local hearings.
Join Amnesty's Rainbow Network
If you want to join a group of UK wide activists who attend events and campaign or equal access to all human rights for people of any sexuality or gender identity, join the Amnesty UK Rainbow Network today.