Equatorial Guinea: Human rights defender released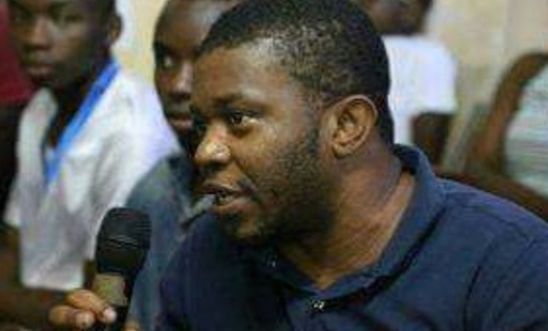 Joaquín Elo Ayeto
On 14 February 2020 Joaquín Elo Ayeto, was released from Black Beach Prison in Malabo, Equatorial Guinea, where he had been imprisoned for almost a year. Joaquín was not given an explanation or any information prior to his release, he was simply taken out of the prison and left on the street without a phone or money.
Following his release, Joaquín shared the following message with Amnesty International: "I have been told of the work that you have done for me and I want to thank the titanic effort by Amnesty International that has resulted in my release. I want to thank all the work that has been done to achieve my release".
The release took place following a meeting between the Secretary General of the Convergence for Social Democracy Party, the opposition party Joaquín is a member of, and the President of Equatorial Guinea, Teodoro Obiang. During the meeting the President issued an order for Joaquín's release. He was freed from prison the same day.
Joaquín was arrested at his home on 25 February 2019, accused of having information about a plot to kill the President. Joaquín was tried for defamation and threats against the President on 21 November 2019. His sentence was never read.
Despite his imprisonment Joaquín is determined to carry on with his human right work.
"Now that I am free, I'm going to carry on doing the work that I used to do before," he said. "I can see that the country is in a much worst situation than a year ago, when I was detained. The economic crisis is worst, the government continues without giving information to its citizens…"
Joaquín is a member of Convergence for Social Democracy or Convergencia Para la Democracia Social (CPDS), and a member of the coordination body for Somos+, a civil society platform with around 15 young men and women working to challenge the injustices affecting young people. The platform was established in 2015 to enable young people to respond to the arbitrary arrests of some of their peers during the Africa Cup of Nations.
History of arrest and detainment
Joaquín has been arrested and detained several times. On 29 November 2016, two military officers brutally beat him after he had posted an online article about an officer refusing to pay a road toll. After the incident Joaquín went straight to court to file a complaint against the two officers. He was told by a judge that his articles were giving the country a bad image.
He was then sent to Black Beach Prison, where he spent over a month. For the first five days of his detention he was held in isolation. When the judicial year resumed in January 2017 the magistrate decided to release him. He has never been told why he was sent to jail.
Joaquín was arrested again on 27 June 2017 after taking part in an event calling for justice in the killing of a young taxi driver, Jose Vidal Ndoing Micha, who was allegedly killed by the Army. Two hours after the event, police arrived at Joaquín's house with a judicial warrant. He was taken to the Ministry of Security, where he was interrogated and sent to a cell. Joaquín was released a week later.
Joaquín was arrested for the third time on Monday 25 February 2019 at 6am, at his home in Malabo. He was in his room on the first floor when he heard noise on the ground floor, where his tenants were. When he went downstairs to investigate, he encountered seven police officers. One of the officers asked if he was Joaquín Elo Ayeto, and upon confirming his identity, he was asked to wait outside while the officers went upstairs to his room.
Officers took Joaquín's camera, laptop, mobile phone, a USB, and magazines from his political party. He was arrested and taken to the Central Police Station, known as Guantanamo, in Malabo. He was brought before a judge on Friday 1 March 2019. Joaquín insisted on showing the judge the injuries he sustained from torture while in police custody, but the judge refused to hear his testimony.
The only thing the judge said in response, was that he would receive medical treatment in prison for his injuries, before ordering Joaquín's pre-trial detention at Black Beach Prison.
No further action is requested. Many thanks to all who sent appeals.
Downloads