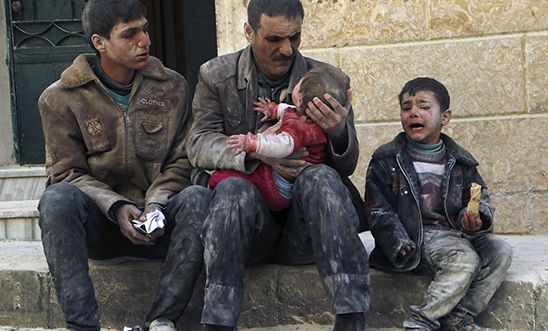 A man holds a baby saved from under rubble, who survived what activists say was an airstrike by forces loyal to Syrian President © Reuters/Hosam Katan
In the last four years, barely a week has gone by when the situation in the country has not made the headlines. 
Stories of battles between opposition and government forces continue to fill our papers, and the endlessly rising death toll serves as a constant reminder that what started as a peaceful cry for freedom has descended into an internal armed conflict - with devastating results.
War crimes
The impact of the fighting, as ever, is being most brutally felt by civilians.
Since the beginning of the uprising in Syria, we have documented a horrific number of war crimes and crimes against humanity, mainly committed by government forces.
Both pro and anti-government forces have killed and tortured captives and both have been responsible for the killing of civilians through the use of indiscriminate weapons.
Find out more about war crimes in Syria
Deliberate starvation of civilians
Four years since the uprising in Syria began, ordinary civilians are being intentionally starved to death. Besieged by the Syrian government and armed opposition groups, some have been reduced to eating cats.
In Yarmouk, a highly built up area of about two square kilometres on the south side of Damascus, about 17,000 to 20,000 people have been trapped by government forces since December 2012.
Civilians in Yarmouk have been brought to the brink of starvation and forced to forage for food.
But they are not alone. Their stories are repeated across the country with around 200,000 civilians are living under siege.
We are calling on world leaders to act to ensure immediate humanitarian access to end the suffering of ordinary civilians who have been caught up in the conflict.
Find out more about the horrors of life in Yarmouk
Refugees
Thousands of desperate people flee Syria every day – 75% of them women and children – often with nothing more than the clothes on their backs.
But the vast majority are being sheltered by a small number of countries neighbouring Syria, who are struggling to cope.
That is why in January 2014 we launched a campaign calling on the UK government to reverse its decision to refuse to resettle a single refugee from Syria. 
After more than 10,000 of you sent letters, emails and tweets the UK government agreed to resettle refugees from Syria and the first of them arrived in March 2014.