War crimes in the Syrian conflict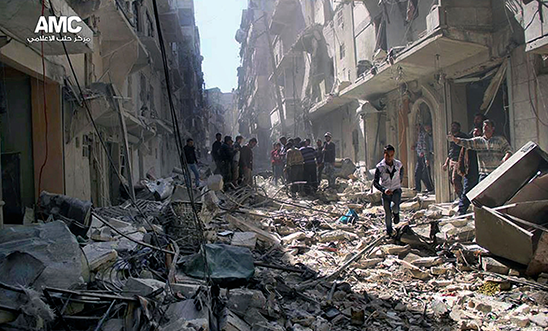 Syrians inspect the rubble of destroyed buildings following a Syrian government airstrike in Aleppo, Syria on 19 March 2014 © AP Photo/Aleppo Media Center AMC
Since the beginning of the uprising in Syria in March 2011, we have documented a horrific number of war crimes and crimes against humanity, mainly committed by government forces.
Both pro and anti-government forces have killed and tortured captives and both have been responsible for the killing of civilians through the use of indiscriminate weapons.
Government abuses
Our researchers have visited Syria many times, returning with horrific accounts of deaths caused by government forces' indiscriminate shelling of civilian areas.
Children have been killed queuing for bread and as they sleep at night. Families have been torn apart or destroyed completely. Such indiscriminate shelling of heavily populated areas amount to war crimes and we have collected evidence of such offences in many regions of the country.
Government forces have also used Cluster Bombs - weapons proven to put civilians at such risk that they have been banned internationally.
Opposition abuses
Armed opposition groups all over Syria – both those fighting under the banner of the Free Syrian Army (FSA) and others with no links to the FSA – have committed a growing number of serious abuses and potential war crimes. Perhaps most well-known are the instances in which they have carried out mass summary killings of those in their custody, and we have also found evidence of horrific abuse of captured government soldiers.
As they overrun government military positions opposition forces seized significant quantities of weapons, often using them in a reckless manner seriously endangering civilians.
Downloads