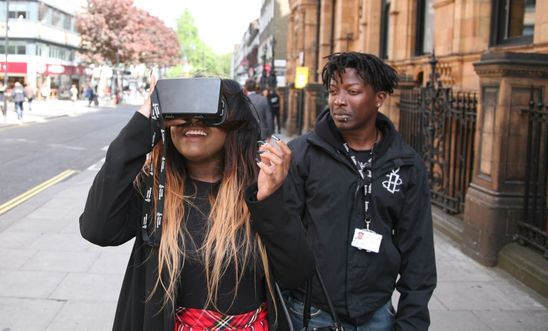 Members of the public have been moved by startling images from Aleppo © Amnesty International
Barrel bombs – oil drums, fuel tanks or gas cylinders filled with explosives and metal fragments, plunged from helicopters – have killed more than 11,000 civilians in Syria since 2012.
People in the city of Aleppo, Syria, are being bombarded in their homes, schools, public markets, and places of worship.
'It became routine for the helicopter to be there above us, so I finally stopped looking up. I smelled death everywhere.'

Resident of Bustan al-Qasr neighbourhood, Aleppo city
This is the gruesome reality for thousands of women, men and children in Syria, but it's a million miles from the reality for us here in the UK.
Working with peaceful activists in Syria who work to protect civilians in areas being heavily bombed, we've introduced a new street fundraising tool which aims to bring this issue closer to home.
Members of the public will be given the opportunity to view the specially-created 360-degree images through virtual reality headsets, offering a powerful immersive experience.
The cost-effective project uses inexpensive refurbished smartphones and low-tech virtual reality headsets (costing less than £15 each).
The photos have been taken by a group of Syrian citizen journalists called Lamba Media Productions, who have been documenting the destruction caused by barrel bombing and other attacks on the besieged city of Aleppo.
Virtual reality headsets used to highlight the horrors of Assad's barrel bomb attacks in Syria http://t.co/0oVXPjQuCD pic.twitter.com/xJXZEYIiES

— kristyan benedict (@KreaseChan) May 27, 2015
Evidence of war crimes
Despite the overwhelming evidence, the Syrian government refuses to acknowledge one single civilian casualty caused by barrel bomb attacks.
President Bashar al-Assad denies ever having used barrel bombs. He called the allegation 'a childish story' and stated: 'there are no barrel bombs'.
During the four years of the Syrian crisis, we have been amassing evidence of widespread human rights violations by Assad's government - including war crimes and crimes against humanity - and the Aleppo images form part of our ongoing efforts.
Fundraising to support Syrian activists
The virtual reality tool will be used to encourage people to follow their immersion in the Aleppo imagery with support for our work in Syria, including specific projects to train and equip citizen journalists and other human rights activists in Syria.
In the first week of our street fundraisers using the Aleppo viewers, we've seen a strong and often emotional response from the public and a 16% increase in people signing up to direct debit donations toward our work.
'We always thought seeing these immensely affecting images would have a genuinely transformative effect on the person on the street, but the early results have surpassed our expectations.

'We've had a really strong response - in a couple of cases people have been in tears and others have expressed shock and outrage at what they're seeing in the viewers.

'Overwhelmingly, people said that they feel more informed and educated about Syria and barrel bombs.'

Reuben Steains, Innovations Manager at Amnesty
Sign the petition: Call on world leaders to act now on Syria