We're frightened for friends & colleagues in Turkey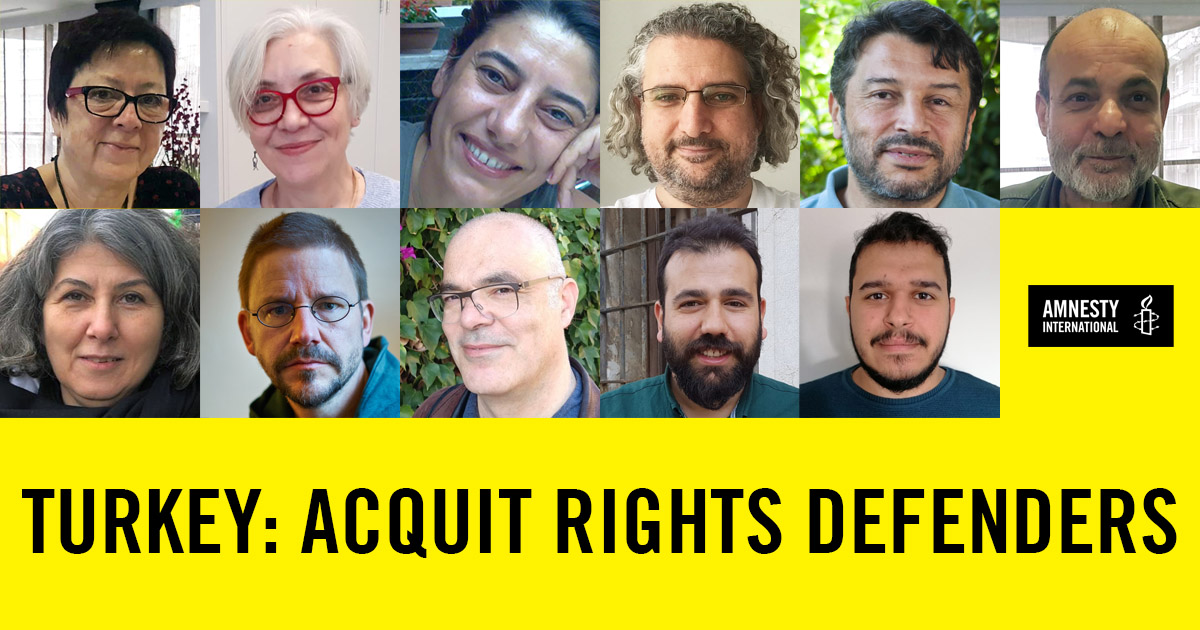 After more than two years of unfair hearings, 11 activists arrested for standing up for human rights in Turkey will finally hear the court's decision on their case on 19 February 2020. The charges they're facing brand them as terrorists for their legitimate human rights work. If convicted, they could face up to 15 years in prison.
These 11 activists have done nothing wrong. They are human rights defenders, advocates for women's rights and equality, academics and lawyers. Some of them are even my own colleagues: among them are Amnesty Turkey's honorary Chair, Taner Kılıç, and Amnesty Turkey's former Director, İdil Eser.
Ahead of their final hearing the head of the Amnesty branch I work for, Kate Allen, is heading to Turkey to offer support and solidarity at the trial of her former Turkish counterpart. On 19 February, the court may decide to ignore the prosecutor's request for convictions and acquit them all, as they should. However, there's also equal chance that none of the defenders will be acquitted. All 11 remain at risk of conviction and imprisonment.
Whatever the outcome of their 19 February hearing, it is likely to be appealed and the risks will continue until all of them are acquitted by the appeal court.
Consequences for human rights defenders
This trial is not just about the 11 but about cracking down on the rights of all human rights defenders. If convicted, there will be lasting consequences for grassroots activists, as well as professional human rights workers. Most of the 11 are not Amnesty employees: they are activists who were arrested and accused of terrorism for attending a workshop on wellbeing and digital security.
Even if the activists are released on time served in pre-trial detention, it would still be a serious injustice. Any manner of conviction would set a frightening precedent in Turkey equating human rights activism and free speech to terrorism. It would embolden opponents of free expression and in other regions that are adopting similar tactics in attempt to silence human rights defenders.
Four of the 11 defenders are lawyers. Should they be convicted, and their convictions confirmed on appeal, they will lose their licenses and will no longer be able to work in their chosen profession. It would also eliminate their ability to provide legal assistance to other human rights defenders in the future.
An overwhelming lack of evidence
What information did the documents linking the ten to terrorism even contain? Well, one was a campaign to stop the sale of tear gas to Turkey, along with other Amnesty International documents; another was a grant application for a human rights project, as well as their campaigning for the release of hunger-striking teachers from detention. All of which are completely legal human rights activities.
There is a real risk that some, if not all, will be convicted. Over the course of not one, not two, but ten hearings, the state prosecution has utterly failed to make a legitimate case against any of the 11 human rights defenders. Not only that, but the prosecutor has consistently ignored evidence disproving the unfounded terrorism accusations; including reports produced by the state itself, such as police reports showing that Taner never even had the messaging app the prosecution based their entire case against him on.
Even though Taner was arrested a month before the other ten human rights defenders on trial, their cases were merged on request of the prosecutor, who accused Taner of directing 'the secret meeting' (the workshop), despite the fact that he was being held in prison at the time the workshop occurred.
Turkish authorities have admitted that thousands of people have been wrongly accused of downloading ByLock – the messaging app the case against Taner is based on. They published lists containing the mobile phone numbers of 11,480 people, leading to mass releases. However, Taner was not on the list. Experts believe a much higher number of people have been wrongly accused of downloading and using the messaging app.
What can you do?
The international support from across the world has meant a lot to the 11 activists and encouraged them to continue their work. Please continue spreading awareness in support of the 11, and tweet in solidarity ahead of the verdict hearing on 19 February.
Sample tweet:
11 activists including @AmnestyUK colleagues could face 15 years in prison in Turkey just for their #HumanRights work. They have done nothing wrong. Read more and spread the word to #AcquitThemAll: https://www.amnesty.org.uk/update-istanbul-10
About Amnesty UK Blogs
Our blogs are written by Amnesty International staff, volunteers and other interested individuals, to encourage debate around human rights issues. They do not necessarily represent the views of Amnesty International.
View latest posts